ULTIMATE SIMPLICITY: Milarepa's Mahamudra Instructions
with Richard John
June 5 - 9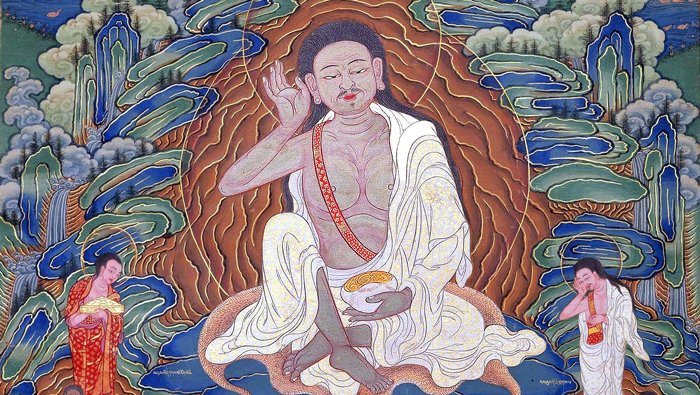 Life is short, but dharma practitioners have a rare opportunity to wake up from the samsaric dream that passes for reality. Many vajra masters have given pith instructions on how to do this, but it is up to each of us to actually hear, take to heart, and practice what has been taught. The sidetracks are everywhere, but realizations are accessible.
One of the greatest teachers is Milarepa, and among his many songs of realization is one with specific instructions on the view, meditation, conduct and fruition of mahamudra:
With the view, this wisdom of being empty,
...the keenest certainty is absolutely essential.

With meditation, this luminosity without grasping,
...undistracted mindfulness is absolutely essential.

With the conduct, a continual flow free from attachment,
...to be free of clinging and obscurations is absolutely essential.

With the fruition, this nakedness that is bare of any stain,
...it is absolutely essential for delusion to fall apart.
In an atmosphere of silence, this five-day retreat will include short talks on each verse, meditation practice with pith instructions, and discussion. Each day will consist of morning and afternoon sessions which will be recorded and made available for individual use.
The translation we will use is from the book Milarepa's Kung Fu by Karl Brunnhölzl, which is not required but may be studied as preparation. For students who are able, it is highly recommended to attend the Four Foundations of Mindfulness weekend immediately preceding the Milarepa Retreat.
Prerequisites:

This retreat is restricted to vajrayana practitioners who received pointing out transmission at Vajradhatu Seminary, Sacred World Assembly, through Ocean, or from a Kagyu or Nyingma Rinpoche.
---
Pricing
Karmê Chöling values its commitment to making programs affordable and available to all who wish to study with us. To support this commitment we provide two program price options.
TUITION: $550
This is the actual price of the program.
GENEROSITY PRICE: $690
We offer this generosity price to those who can afford to pay a little more. Your generosity makes it possible for Karmê Chöling to offer it's programs at a reasonable price.
Please Note:
Price does not include accommodations, which will be added during the registration process.
Payment Policies:
Karmê Chöling has updated its payment policies. The new policies apply to all programs that start after January 1, 2019. Please read the payment policies before proceeding with registration.
Financial Aid:
Karmê Chöling offers full-time student discounts, scholarships and other financial aid.
Program Credit:
If using existing program credit to pay for a program, you must pre-register for this program at least two weeks prior to the program start date by calling the front desk (802-633-2384 x3000). Program credit may not be used to pay for housing or practice materials and may not be used on or after arrival day.
---
Teachers
About Richard John
An early student of Chögyam Trungpa Rinpoche, Richard served as acharya for Sakyong Mipham Rinpoche for 20 years. He completed the traditional Buddhist three-year retreat at Gampo Abbey, and has taught many meditation programs and retreats in the United States, Canada and Mexico. Richard and his wife Liz reside in Halifax, Nova Scotia.
Share this Program: