PENDING: Presencing
with Acharya Arawana Hayashi
August 28 - 30
---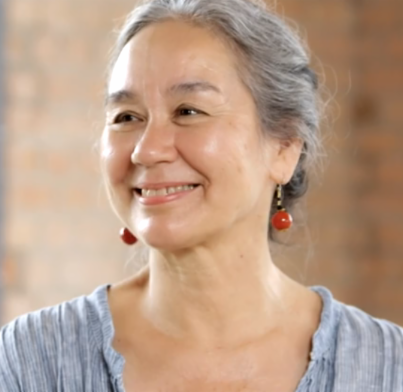 PENDING: By July 1, we will announce whether this program will go forward as planned.
Acharya Arawana Hayashi brings her brilliant teaching for a weekend of exploring mind, body, group relationships, and meditation.
Social Presencing Theater (SPT) is a series of practices developed under the leadership of Arawana Hayashi for the Presencing Institute. SPT is inspired and informed by the teachings of Shambhala Art and Mudra Theater. It enhances the application of the change process called, Theory U, practiced by many who are engaged in "ego-system to eco-system" change in organizations, communities and society.
It is an emerging art form, based on mindfulness and awareness in everyday life, that explores the creative potential of individuals and of groups.
Drawing on the arts and contemplative traditions, SPT brings mindfulness, awareness, creative process, art, and body-based learning into organizational and social change efforts. It gives a person, team or organization information about patterns and relationships that are "stuck" in a system, and offers methods for creating open, sane systems. This is not "theater" in the conventional sense, but rather uses simple body postures and movements to dissolve limiting concepts, to communicate directly, to access intuition, and to make visible both where we are now and where we want to go.
For more information visit: Presencing.org
At the core of Theory U and Presencing is the hypothesis that the quality of our actions is a function of the quality of the awareness we bring to those actions. Social Presencing Theater gives practitioners an embodied experience of the U process — not as an intellectual exercise, but through the experience of making a "true move."
Arrival & Departure
Please plan on arriving between 3-6pm on Friday, August 28, 2020, to register and check-in. Dinner is offered at 6:30pm. The program begins that evening at 7:30pm. The program ends around 4:30pm, Sunday, August 30th.
Currently this program is pending.
Let us know if you'd like to learn more details as they become available.


---
Pricing
Karmê Chöling values its commitment to making programs affordable and available to all who wish to study with us. To support this commitment we provide two program price options.
FULL PRICE: $295
This is the actual price of the program.
DISCOUNT PRICE: $220
We offer this discounted price to those who cannot afford the full price of the program. This price is made possible through the generosity of Karmê Chöling and our donors
Payment Policies:
Karmê Chöling has updated its payment policies. The new policies apply to all programs that start after January 1, 2019. Please read the payment policies before proceeding with registration.
Financial Aid:
Karmê Chöling offers full-time student discounts, scholarships and other financial aid.
Program Credit:
If using existing program credit to pay for a program, you must pre-register for this program at least two weeks prior to the program start date by calling the front desk (802-633-2384 x-101 or x-103). Program credit may not be used to pay for housing or practice materials and may not be used on or after arrival day.
Online registration is not currently open.
---
Teachers
About Acharya Arawana Hayashi
Acharya Arawana Hayashi is a dancer, choreographer and meditation teacher, and a student of both Chögyam Trungpa Rinpoche and Sakyong Mipham Rinpoche. She founded the Jo Ha Kyu Performance Group in Boston, and pioneered the Embodied Presence program. Acharya Hayashi teaches meditation programs all over the world, and sits on the faculty at the Presencing Institute in Cambridge, the Authentic Leadership Program at Naropa University, the Shambhala Institute for Authentic Leadership in Halifax, and the Mukpo Institute at Karmê Chöling. She also serves on the Sakyong's Council and is Chair of the Shambhala Arts Council.
Share this Program: