Enlightened Society Assembly
with Acharya Martin Janowitz and Acharya Susan Chapman
August 12 - 21, 2017
Enlightened Society Assembly is a gathering of Shambhala warriors to contemplate, practice and manifest the principles of basic goodness in order to create a good human society. Students will deepen their commitment and intention to manifest basic goodness by taking the Enlightened Society Vow. We will practice the Shambhala Sadhana to support the journey of establishing trust and confidence in the basic goodness of oneself, others and society. We will contemplate how we can embody these principles to further personal and social transformation.
APPLICATION AND REGISTRATION
Applying and registering for Enlightened Society Assembly is a 2-step process:
Submit an application on the Shambhala International Website before July 7, 2017. The application is then reviewed by the Office of Practice and Education in Halifax (which can take up to 8 weeks).
When you receive an acceptance letter from Shambhala Internations, you'll be given a registration code included. You must then come back to this webpage to register. Acceptance by Shambhala International does not automatically register you for Enlightened Society Assembly. Step 2 is required.
The application deadline is July 7, 2017.
MATERIALS
You will receive materials with this program. The estimated cost of materials is $125. An exact amount will be known closer to the program.
STAFFING OPPORTUNITIES
Many past ESA graduates enjoy giving back by staffing. If you are interested in staffing this ESA, please submit an application by clicking here.
ARRIVAL & DEPARTURE
Please plan on arriving between 3pm and 6pm to check-in, register, and get settled on August 12th. Dinner is at 6:30pm. The program begins at 7:30pm. August 21st is a departure day; you are free to leave at any time.
Prerequisites:
Students applying to the Enlightened should have completed the following before the program:
Shambhala Levels I-V
Everyday Life Series: Meditation, Contentment, Joy, Fearlessness and Wisdom
Basic Goodness Series (if possible)
Rigden Weekend
One Weekthun
Membership in your local Shambhala meditation centre/group or membership in Shambhala for those not affiliated with a local centre.
---
Pricing
Karmê Chöling values its commitment to making programs affordable and available to all who wish to study with us. To support this commitment we provide two program price options.
FULL PRICE: $1555
Those who can are encouraged to register using this option.
DISCOUNT PRICE: $1255
To encourage all to study, we offer this discounted price to those who cannot afford the full price. Charitable donations provide the funding to make this pricing option available. We thank our donors for their generosity.
Financial Aid
Karmê Chöling offers interest-free payment plans, scholarships, and other financial assistance.
Online registration is not currently open.
---
Teachers
About Acharya Martin Janowitz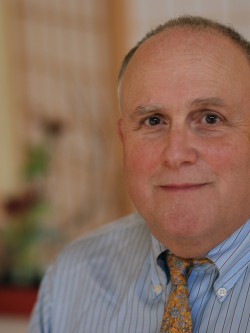 For 17 years Acharya Marty Janowitz studied, served and taught under the Ven. Chögyam Trungpa, Rinpoche's guidance and now continues under the guidance of his lineage heir Sakyong Mipham Rinpoche. Inspired by the vision of creating enlightened society Marty has long been dedicated to integrating the paths of inner and societal wisdom with particular interest in environmental transformation. Much of Marty's current teaching focuses on this essential Shambhala heart and action path and in that context, what he describes as sacred activism.

Marty is Chair of the Nova Scotia Roundtable on Environment and Sustainable Prosperity and is active in Buddhist climate change initiatives, the Authentic Leadership in Action (ALIA) Institute and as a trustee of Naropa University. Marty is Vice President and Practice Leader of Sustainable Development for Stantec, where he focuses on the company's 'walking the talk', and consults on community, national and corporate social responsibility and sustainability.
About Acharya Susan Chapman
Susan Chapman has been a student of the Shambhala Buddhist lineage since 1974. She founded the Juneau Shambhala Center in 1990 and moved to Gampo Abbey in 1997 where she completed the Kagyu three year retreat and then became druppon, or retreat leader, for the next six years. During that time she completed three mahamudra investigation retreats, each of them three months long. She is currently living in Burnaby, BC, with her husband, Jerry, where she runs a business called Green Light Conversations that offers training in mindful communication.
Share this Program: