Scorpion Seal In-House Group Retreat
with Rupa Acharya Suzann Duquette
January 20 - 24, 2013
Rupa Acharya Suzann Duquette will oversee the retreat, lead discussions and selected practice sessions, and will offer interviews. The program will include a practice schedule, study guide, optional Scorpion Seal Audios and DVDs, outside walks, and discussion focused on the ways we can and do deepen our connection with drala and allow our Scorpion Seal practices to interpenetrate our lives. We will begin on Sunday, January 20, at 9:00am with a practice session led by Acharya Duquette and end after lunch on Sunday, January 27.
Attendance to a session only is $20
Daily Fee is $40. This inlcudes attendence to 2 session as well as other retreat activities.
Prerequisites:
Completion of Scorpion Seal Assembly Year 1
---
Pricing
Program Fee: $320
Daily Fee: $40
Financial Aid
Karmê Chöling offers interest-free payment plans, scholarships, and other financial assistance.
Online registration is not currently open.
---
Teachers
About Rupa Acharya Suzann Duquette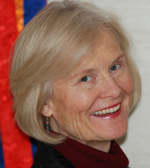 Suzann is an Acharya, a senior teacher and representative of Sakyong Mipham Rinpoche. She has been a student, leader, and teacher in the Shambhala lineage since 1974. A former co-director of Karmê Chöling, Suzann is currently Resident Acharya for the center and a core faculty member of Karmê Chöling's Mukpo Institute. She is also Rupa Acharya. In this position, she is responsible for maintaining and fostering the sacred ceremonial and liturgical forms of Shambhala.

Acharya Duquette teaches widely. She respects the power of embodiment in bringing conceptual learning to manifestation, and emphasizes body awareness and disciplines in all her teaching. The Acharya is a Qigong instructor in the lineage of Eva Wong, a Lujong or Warrior Exercises instructor in the lineage of Khenpo Tsultrim Gyamtso, Rinpoche, and a Mudra Space Awareness teacher in the lineage of Chögyam Trungpa, Rinpoche. She lives with her husband, Jan, in Barnet, where they own a bed and breakfast, Blue Skies Guesthouse.

Share this Program: