Yeshe Tsogyal Empowerment and Teachings
with H.E. Namkha Drimed Rabjam Rinpoche
August 29 - September 3, 2008
His Eminence Namkha Drimed Rinpoche will be conducting this five day empowerment and practice retreat. These teachings will be unique in that His Eminence will be teaching both from the Tagsham Terma cycle of teachings on Yeshe Tsogyal as revealed by Tagsham Nudan Dorje and translated by Richard Barron as well as from His Eminence's own cycle of revealed Tagsham Yeshe Tsogyal Terma teachings. His Eminence has created a customized practice schedule to provide a very profound retreat.

The Dakini Yeshe Tsogyal is the mother of all Buddhas, the Wisdom Consort of Guru Padmasambhava. Yeshe Tsogyal possesses inconceivable primordial wisdom and compassion. She has the power to protect and the ability to manifest all of the enlightened activities. Yeshe Tsogyal practice helps us to attain these qualities through purifying our obscurations and perfecting the accumulations.

The Yeshe Tsogyal empowerment is being given at this time in celebration of the feminine principle, following the historic Shambhala cultural ceremony to empower the Sakyong Wangmo, Khandro Tseyang. The Sakyong Wangmo, or Earth Protector Lady, is the manifestation of feminine energy - gentleness and peace - that we all possess. Representing the accommodating quality of space, which is the wisdom of basic goodness, the Sakyong Wangmo is an example of how to be a warrior.

We encourage everyone to attend who can, in support of the celebration of the feminine principle and lineage. A text fee (for those who do not have the liturgy and text) will be applied at registration.

Program ends with the last talk late afternoon on Tuesday September 2. Participants are welcome to spend the night and depart Wednesday.
Prerequisites:
In order to participate in this program, you must have attended and graduated Shambhala Vajrayana Seminary or be members of the Ripa Ladrang Foundation or Padma Ling.
---
Pricing
Program Fee: $495
Materials Fee: $40
Teaching Gift: $50
Other Teaching Gift: $20
Payment Policies:
Karmê Chöling has updated its payment policies. The new policies apply to all programs that start after January 1, 2019. Please read the payment policies before proceeding with registration.
Financial Aid:
Karmê Chöling offers full-time student discounts, scholarships and other financial aid.
Program Credit:
If using existing program credit to pay for a program, you must pre-register for this program at least two weeks prior to the program start date by calling the front desk (802-633-2384 x-101 or x-103). Program credit may not be used to pay for housing or practice materials and may not be used on or after arrival day.
Online registration is not currently open.
---
Teachers
About H.E. Namkha Drimed Rabjam Rinpoche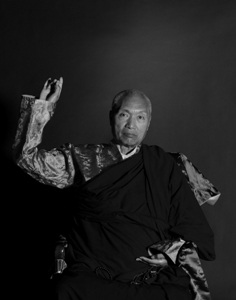 His Eminence Namkha Drimed Rabjam Rinpoche's scope of assistance to all beings is vast and his help is given on various levels, depending on the needs of the people he meets. He offers the highest level of Buddhist teachings to assist beings, in both the East and the West, to become freed from all types of suffering. And yet his offering of compassionate assistance often also takes the form of physical help.

For instance he aids the elderly people in Orissa, India who need to be cared for and he provides for them. He also provides educational services to children. And in general he is not only the head of monasteries in India, Nepal and Tibet, but he also is the leader of the Tibetan refugee population in India of several thousand persons. help.

Namkha Drimed Rinpoche's various compassionate projects need assistance. If you would like to contribute to the support of his various projects, please send your request via mail or e-mail to Ripa Ladrang Foundation.
Share this Program: