Qigong Level 4
with Instructor: Suzann Duquette
April 25 - 27

Qigong 4 - Iron and Silk: Strengthening the Body, Cleansing the Internal Organs
Iron has the quality of hardness, but tempered by fire, will become soft and flexible, ready to form limitless shapes. Silk has the quality of softness, but when the fibers are woven together, they form the strongest bonds.
Qigong 4 is the balance and integration of Iron and Silk. Enter the world of Wudangshan qigong to build the Iron of external strength. Continue your exploration of breath regulation to weave the Silk of internal strength.
Your introduction to Iron begins with the Tiger and Dragon forms of the Wudangshan Five Animals. Wudang means martial-art dominant, and its qigong is used to build the strength and flexibility required for martial arts training. The Tiger builds bone strength and the Dragon trains flexibility in the spine. When you practice these forms, the Iron of your muscles, tendons, and bones will become strong yet soft and pliable.
Your experience of Silk is through the qigong of Immortals' Guide and Red Phoenix, when you use breath to move qi through the muscles, tendons, and bones. Through breath regulation, the Silk of your muscular-skeletal system will become soft yet strong and firm.
The highlight of Qigong 4 is a special evening of practice devoted to Organ Cleansing. Toxins enter our organs daily, introducing impurities into qi that is stored in them. Learn how to strengthen your organs, cleanse them, and make them suitable vessels for holding qi.
This level ends with the final two postures of Standing Qigong, the culmination of stabilizing the benefits of your Iron and Silk training.
Arrival and Departure
On Tuesday, April 25th please arrive between 3:00 - 6:00pm for registration. Dinner will be served at 6:30pm and the program will officially begin at 7:30pm.
On Thursday, April 27th the program will finish by 6:00pm.
Prerequisites:
Qigong Levels 1-3
---
Pricing
Karmê Chöling values its commitment to making programs affordable and available to all who wish to study with us. To support this commitment we provide two program price options.
TUITION: $220
This is the actual price of the program.
GENEROSITY PRICE: $275
We offer this generosity price to those who can afford to pay a little more. Your generosity makes it possible for Karmê Chöling to offer it's programs at a reasonable price.
Please Note:
Price does not include accommodations, which will be added during the registration process.
Payment Policies:
Karmê Chöling has updated its payment policies. The new policies apply to all programs that start after January 1, 2019. Please read the payment policies before proceeding with registration.
Financial Aid:
Karmê Chöling offers full-time student discounts, scholarships and other financial aid.
Program Credit:
If using existing program credit to pay for a program, you must pre-register for this program at least two weeks prior to the program start date by calling the front desk (802-633-2384 x3000). Program credit may not be used to pay for housing or practice materials and may not be used on or after arrival day.
---
Teachers
About Instructor: Suzann Duquette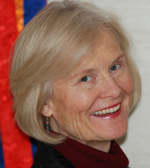 Suzann Duquette is a long-time student of body-focused disciplines, beginning with training in T'ai Chi Ch'uan and Mudra Space Awareness in 1974. She is an authorized instructor for Levels 1-5 in the Daoist Qigong lineages of Dr. Eva Wong, with whom she has been studying since 2007. Suzann also teaches Mudra Space Awareness, as introduced by Chögyam Trungpa Rinpoche, and is an instructor for Lujong (body training), in the tradition of Khenpo Tsültrim Gyamtso Rinpoche. She includes body-focused disciplines in all of her teaching as methods for health, well-being, and the embodiment and, therefore application, of wisdom teachings. Suzann lives with her husband in Barnet, Vermont, where they own and run Blue Skies Guesthouse, a local B&B.
Share this Program: