Moon and Sun: Introduction to Contemplative Haiku and Aesthetics
with John McQuade
November 5 - December 3, 2022

The moon and sun are travelers through eternity.

Even the days wander…each day is a journey and the journey itself is home.
-Basho
No writing experience necessary!
What is haiku?
Haiku is a simple poetic form that emerged from medieval Japan. One of its distinguishing features is that it consists of three short lines with a total of 17 syllables.
Haiku began as an artform in the Court of Japan, but developed into a contemplative practice available to everyone who was literate. As a contemplative practice, haiku allows the everyday experience of our senses to provide insight into the depths of our humanness, according to McQuade. This sensory experience and the insight that arises from it, is reduced to its absolute essence in haiku, down to 17 syllables. The resulting poetry is "a heartfelt sensibility that says more than can be said in so many words".
How is haiku different from other poetry writing?
Contemplative Haiku is an experiential, transformational practice which gives rise to an expressive form, an artistic practice. It is one of the advanced arts that can tap into the depth of our inner experience through our outer, sensory experience. "Haiku is a direct way of registering and expressing our personal and human ways of being-in-the-world" according to McQuade.
There is a subtle understanding or 'sensibility' of the contemplative experience that also develops. Many "subtle aesthetic moods" come from contemplation, but three are fundamental to the Japanese aesthetics:
Sabi – loneliness/heart-break

Wabi – ordinary/ simplicity

Yugen – mystery/ a beyond that is not somewhere else
We will also consider the elemental aesthetics of the Chinese contemplatives and the Shambhala teachings on "ordinary magic" and "authentic presence", as energetic ways that inform contemplative practice as well.
For those interested, this course opens participation in the ongoing 'Moon and Sun' community of haiku practitioners.
A class for all levels of experience

John McQuade will be teaching a class on haiku in Moon and Sun: Introduction to Contemplative Haiku and Aesthetics. This class is especially well suited for artists and those involved with contemplative practices, as it blends the medium of poetry with the insight from contemplation. It resonates well with those people practicing the Buddha Dharma, Shambhala Dharma or Daoism.
It works well for both those interested in an introduction to haiku, as well as practitioners familiar with the art who are looking for community, teacher feedback, and active critiques of their work in order to deepen their practice.
How is the class structured?
This will be an online class via zoom
Sessions will be recorded so you can listen to them later
It will go 5 Saturdays from 11am – 1pm EST, Nov 5 – Dec 3
Each week there will be teachings on contemplative art and contemplative haiku.

A haiku assignment will be given for the next week.
Each person will send in five haiku and will be given feedback on these
Of all the haiku submitted there will be a selection made
Each participant will have the opportunity to connect with John McQuade directly via email and to share your haiku in the context of live Zoom sessions.

During the next class we will collectively share, contemplate and comment on this community of haiku
Then it starts over with a new teaching and assignment
---
Pricing
Karmê Chöling values its commitment to making programs affordable and available to all who wish to study with us. To support this commitment we provide two program price options.
TUITION: $108
This is the actual price of the program.
GENEROSITY PRICE: $145
We offer this generosity price to those who can afford to pay a little more. Your generosity makes it possible for Karmê Chöling to offer it's programs at a reasonable price.
Payment Policies:
Karmê Chöling has updated its payment policies. The new policies apply to all programs that start after January 1, 2019. Please read the payment policies before proceeding with registration.
Financial Aid:
Karmê Chöling offers full-time student discounts, scholarships and other financial aid.
Program Credit:
If using existing program credit to pay for a program, you must pre-register for this program at least two weeks prior to the program start date by calling the front desk (802-633-2384 x3000). Program credit may not be used to pay for housing or practice materials and may not be used on or after arrival day.
Online registration is not currently open.
---
Teachers
About John McQuade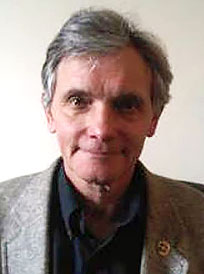 John McQuade is the founder of Nalanda Miksang Contemplative Photography and AbsoluteEye: photography as Modern Art.

He holds a PhD in phenomenology and has taught at many institutions such as Trent University, York University, the Omega Institute and the Haliburton School of Art.

He is a long-time meditation student of the renowned Buddhist and Shambhala Master Chogyam Trungpa, Rinpoche. In this context, he is a certified meditation instructor, Shambhala Training teacher and Maitri Space awareness facilitator.

He is the co-author of two books: Looking and Seeing and Heart of Photography.
Share this Program: