Hybrid: Four-Dharmas Weekthun
with Acharya Richard John
April 15 - 22, 2022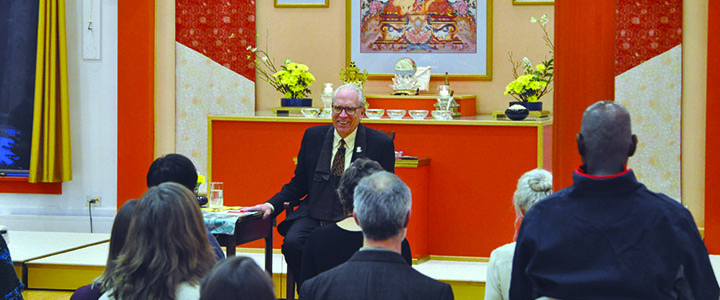 Four Dharmas, Four Foundations, Four Dignities
The first meditation practices taught by the Buddha were the Four Foundations of Mindfulness. The view of the dynamic unfolding of the path is known as the Four Dharmas of Gampopa. The Shambhala stages of attainment, as well as the application in daily life, are the Four Dignities.
These teachings are beautifully aligned, and we will apply them in this four-day meditation retreat. Beginning each morning with the Four Dharmas, each day will include teachings on one dignity, and pith instructions for the corresponding meditation. Acharya John has taught many dathuns (four-week retreats) using this format, with one dignity and foundation for each week. Here we will condense it into four days.
Heart Gifts
It is customary to offer a monetary Heart Gift to the teacher. Acharyas receive no salary or benefits, and depend upon this income in order to teach for a living. This is completely voluntary according
Schedule
The Zoom room will open by 7:15 p.m. Eastern Time, on Apirl 15, 2022. Please arrive early to check your connection and let us help troubleshoot any technical difficulties. For the rest of the retreat, the program and ends about 5:30 p.m. Eastern, with breaks throughout the day. The program ends by 5:30 p.m. Eastern, on April 22.
If you are participating in person, please plan to arrive between 3 and 6 p.m., on Friday, April 15. in order to register and settle in for the program. Dinner is served at 6:30 p.m. There will be a brief orientation at 7 p.m. for all on-land participants.
Please check our current COVID protocols
regarding on-land participation.
Registration Deadline
Because of the nature and logistics of online programming — including ensuring that you have the proper links, materials and schedules — the deadline to register for this program is 48 hours before it begins.
This program is available both On-Land and ONLINE. Participants who join the program in person, will pay an additional on-land differential of $210. This covers all meals and general land use at KCL. It does not cover accommodations.
---
Pricing
Karmê Chöling values its commitment to making programs affordable and available to all who wish to study with us. To support this commitment we provide two program price options.
FULL PRICE: $405
This is the actual price of the program.
DISCOUNT PRICE: $300
We offer this discounted price to those who cannot afford the full price of the program. This price is made possible through the generosity of Karmê Chöling and our donors
Please Note:
Price includes meals and basic accommodations on the shrine room floor.
Payment Policies:
Karmê Chöling has updated its payment policies. The new policies apply to all programs that start after January 1, 2019. Please read the payment policies before proceeding with registration.
Financial Aid:
Karmê Chöling offers full-time student discounts, scholarships and other financial aid.
Program Credit:
If using existing program credit to pay for a program, you must pre-register for this program at least two weeks prior to the program start date by calling the front desk (802-633-2384 x3000). Program credit may not be used to pay for housing or practice materials and may not be used on or after arrival day.
---
Teachers
About Acharya Richard John
An early student of the Vidyadhara, Richard was appointed acharya by Sakyong Mipham Rinpoche in 2002. He completed the first three-year group retreat at Gampo Abbey, and teaches Shambhala Buddhist programs throughout North America, including mahamudra retreats at Dorje Denma Ling, Karme Choling, SMC and Casa Werma. Richard and his wife Liz live in Halifax, Nova Scotia.
Share this Program: