ONLINE - Epic of Gesar Weeklong Practice Retreat
with Mark Nowakowski
August 21 - 26
This program is a 6-day practice retreat designed to deepen our connection to the Epick of Gesar as a powerful inspiration for our path in everyday life.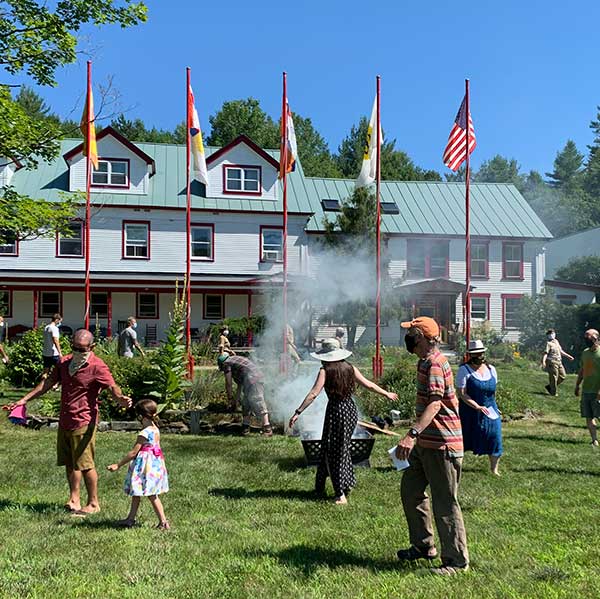 The ideal warrior, Gesar of Ling is a trusted leader who tames the enemies that turn people from the path of wisdom and compassion. Gesar is the main 'protector' of the Shambhala community whom Chögyam Trungpa Rinpoche credits as a primary source of the Shambhala teachings.
This six-day retreat will offer periods of sitting meditation as well as an exploration of Gesar practices such as The Warrior Song of Drala, the Short Gesar Lhasang and more.
The retreat is open to vajrayana and non-vajrayana practitioners and will include practice opportunities for both.
NOTE: This program is part of our 3-month Dharma.U cycle of teachings devoted to the Epic of Gesar. For those who do not wish to take the full cycle, this retreat can also be taken as a stand alone program by registering below.
CLICK HERE to purchase 'Gesar' translations by our series' teachers from our friends at Shambhala Publications.
Schedule:
Each day begins at 9:00AM EDT
Days 1 & 2 (Saturday, Aug. 21st and Sunday, Aug. 22nd) will end at 6:30PM
Days 3, 4, 5 & 6 will formally close at 12:30PM, with optional practice sessions offered most afternoons and evenings.
Each session will include a mix of chanting, sitting and walking meditaiton, talks, breakout discussions and plenty of breaks.
Talks will be recorded and made available after the program to all who register.
Registration Deadline
Because of the nature and logistics of online programming — including ensuring that you have the proper links, materials and schedules — the deadline to register is 48 hours before the program begins.
Prerequisites:
There is no formal prerequisite for this retreat. We highly recommend, however, that you have some basic familiarity with the Gesar Epic and have an established meditation practice. For resources on Gesar, feel welcome to email jtbuck@karmecholing.org to request links and suggestions.
---
Pricing
Karmê Chöling values its commitment to making programs affordable and available to all who wish to study with us. To support this commitment we provide two program price options.
FULL PRICE: $235
This is the actual price of the program.
DISCOUNT PRICE: $175
We offer this discounted price to those who cannot afford the full price of the program. This price is made possible through the generosity of Karmê Chöling and our donors
Payment Policies:
Karmê Chöling has updated its payment policies. The new policies apply to all programs that start after January 1, 2019. Please read the payment policies before proceeding with registration.
Financial Aid:
Karmê Chöling offers full-time student discounts, scholarships and other financial aid.
Program Credit:
If using existing program credit to pay for a program, you must pre-register for this program at least two weeks prior to the program start date by calling the front desk (802-633-2384 x3000). Program credit may not be used to pay for housing or practice materials and may not be used on or after arrival day.
---
Teachers
About Mark Nowakowski
Mark Nowakowski met the Vidyadhara Chögyam Trungpa Rinpoche in 1972 and has been his student ever since. He currently studies with other Kagyü and Nyingma masters. Mark is a senior member of the Nalanda Translation Committee and a senior teacher in the Shambhala mandala. He did his first Fire Offering in 1985, and his second that same year with the Vidyadhara, and with Sakyong Mipham Rinpoche the following year. Since then he has led many Amending and Four Karma Fire Offerings. In 2006, he requested the Sakyong's blessing and permission to do weekend rite-of-aid fire offerings to benefit our mandala and the world, and we have been doing so twice a year since then: enriching and magnetizing at Dorje Denma Ling.
Share this Program: