Sadhana of Mahamudra Community Weekend
with Rupa Acharya Suzann Duquette
April 3 - 4
This all-sangha weekend is a celebration at Karmê Chöling - the inaugural location of Shambhala in the modern age. We will explore the relevance of the Sadhana of Mahamudra in our lives and, on Sunday, April 4, will celebrate the Parinirvana of Chögyam Trungpa Rinpoche.
The Sadhana of Mahamudra was written by the Vidyadhara Chögyam Trungpa Rinpoche while on retreat in Bhutan in 1968. This retreat marked a profound turning point in his presentation of the buddhadharma. The text and practice contain essence teachings for Western culture on overcoming obstacles and degraded spiritual practices in our time. The text presents a fruition vajrayana view, bringing together the devotion mahamudra of the Kagyü and the crazy wisdom ati of the Nyingma. As such, it is a powerful touchstone for understanding Shambhala's vajrayana heritage.
Schedule
The online Zoom room will open at 8:45 a.m EASTERN TIME on Saturday, April 3, 2021, for you to sign-in, check your connection, and do any necessary trouble-shooting of technical issues. The program will run from 9am to about 5:30pm on Saturday. The Sunday schedule is TBD but will begin at 9am and conclude with the Sadhana of Mahamudra Feast in the late afternoon.
Part of the Study Cycle: Unmasking the Three Lords of Materialism

This program can be taken as a stand-alone class OR as part of the three month study series, Unmasking the Three Lords of Materialism. If you are registered for the full three month series, you are already registered for this class and do not need to re-register.
---
Pricing
Karmê Chöling values its commitment to making programs affordable and available to all who wish to study with us. To support this commitment we provide two program price options.
FULL PRICE: $120
This is the actual price of the program.
DISCOUNT PRICE: $90
We offer this discounted price to those who cannot afford the full price of the program. This price is made possible through the generosity of Karmê Chöling and our donors
Payment Policies:
Karmê Chöling has updated its payment policies. The new policies apply to all programs that start after January 1, 2019. Please read the payment policies before proceeding with registration.
Financial Aid:
Karmê Chöling offers full-time student discounts, scholarships and other financial aid.
Program Credit:
If using existing program credit to pay for a program, you must pre-register for this program at least two weeks prior to the program start date by calling the front desk (802-633-2384 x3000). Program credit may not be used to pay for housing or practice materials and may not be used on or after arrival day.
---
Teachers
About Rupa Acharya Suzann Duquette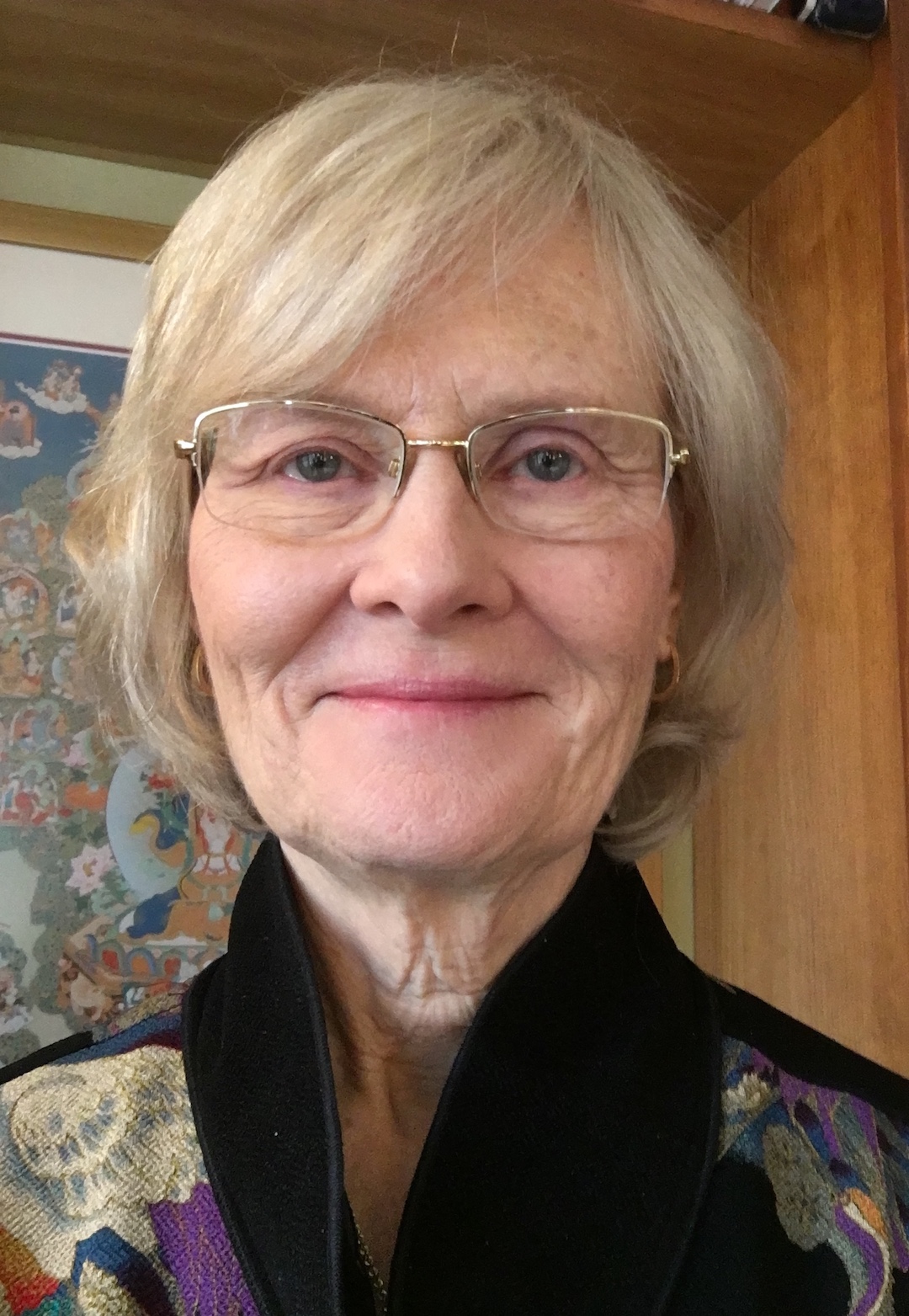 Suzann Duquette has been a student, leader and teacher in Shambhala for 45 years. Appointed by Sakyong Mipham Rinpoche as Rupa, or Form, Acharya, a key aspect of her work is developing and teaching Shambhala Ritual Academy with other core faculty throughout the sangha and online. Her work with the Ritual and Form Group of the Rupa Acharya also contributes to ritual education in Shambhala. This training program as well as other Academy programs are designed to create a community of strong and vital Shambhala umdzes and chöpöns. As Werma Acharya, Suzann leads selected Scorpion Seal meditation retreats. She also teaches Daoist-Qigong in the lineage of Dr. Eva Wong and Mudra Space Awareness, as presented by the Vidyadhara, Chögyam Trungpa Rinpoche. Suzann is currently Resident Acharya at Karmê Chöling. She and her husband, Jan Enthoven, run a B&B in Barnet, Vermont.
Share this Program: