LIVESTREAM: Finding Bravery in Times of Confusion - Heart of Warriorship Levels 1 - 3
with Bill Brauer
June 26 - July 2, 2020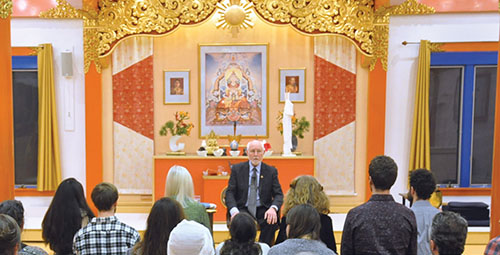 This program is offered as a Live Streaming session via Zoom.
Special Group rates are available to local Shambhala Centers who would like to host this retreat at their home center. Please contact info@karmecholing.org for more information.
Levels I-III are the first three of the five levels of the Heart of Warriorship training curriculum which provide a strong foundation in mindfulness-awareness meditation practice, emphasizing the development of genuineness, confidence, humor, and dignity within the complexity of daily life. This retreat is recommended for both new and experienced meditators.
The simple and profound technique of mindfulness and awareness is the basis of a secular path of meditation, which can benefit people of any spiritual tradition and way of life. Shambhala Training is the study and practice of Shambhala warriorship - the tradition of human bravery, kindness, and leadership. This path shows how to take the challenges of daily life in our modern society as opportunities for both contemplative practice and social action.
Every Shambhala Training level includes thorough meditation instruction, periods of meditation practice, optional one-on-one meetings with a meditation instructor, talks by a senior teacher, group discussions, and contemplative movement exercises.
Through the practice of sitting and walking meditation, we will remember our natural confidence and relax into the freshness of the present moment, no matter what that moment may bring. Shambhala Training presents the view that human beings, at the core, are fundamentally awake and good.
With the guidance of a senior Shambhala teacher and a group of experienced meditation instructors, you will discover that awakening is not about escaping from the world we live in, but instead is about bringing a mindset of wakefulness to every aspect of our lives: work, play, relationships, and more. It all begins with giving ourselves the opportunity to reconnect with our true human existence—the experience of our five senses, the feeling of emotions in our body, and yes, even the awareness of thoughts across our minds.
By opening to our own genuineness and tenderness, we learn how to work with fear to cultivate the willingness to see our deep-seated habits and defenses. This weekend program intensifies the discipline of meditation practice, which enables us to begin seeing through obscurations of habitual patterns that we have created over time.
With the guidance of a senior Shambhala teacher and a group of experienced meditation instructors, you will learn a meditation practice that builds upon the mindfulness-awareness technique of Shambhala Training Level I. This program provides students with real techniques for working with fear and habitual patterns of thought and behavior.
Having learned not to turn away from fear, we can extend this strength into everyday life situations. We learn that we can apply our practice to whatever arises, developing more confidence in all aspects of our world to further awaken the mind and heart.
With the guidance of a senior Shambhala teacher and a group of experienced meditation instructors, you will learn a meditation practice that builds upon the technique learned in Shambhala Training Level II. This program provides students with real techniques for raising our gaze and relating to the world around us like warriors.
Shambhala Training Levels I-III include:
• Guided meditation practice
• Mindfulness meditation talks by a senior teacher
• Group discussions
• Optional one-on-one meditation instruction
• Mindfulness movement exercises
About Shambhala Training
Shambhala Training offers a structured path of meditation and emotional intelligence education rooted in the ancient wisdom of the Shambhala tradition and created for the challenges of modern, everyday existence.
Looking Forward
Successful completion of Levels I-III of Shambhala Training is required to advance to Level IV.
The Shambhala Training path consists of programs suitable for both beginning and experienced meditators, and open to people of any spiritual tradition.
This comprehensive overview of mindfulness meditation and contemplative living practices presents the view that when we foster a more awake relationship with ourselves, we are creating a more awake and compassionate world.
Arrival & Departure
The online zoom room will be open starting at 3:30pm on Friday, June 26, for you to sign-in, check your connection and do any necessary trouble-shooting of technical issues. The program begins at 7:30pm that evening. The program ends around 4:30pm on July 2, 2020.
Prerequisites:
The prerequisite for taking Level 2, Birth of a Warrior, is successful completeion of Level 1, The Art of Being Human.
The prerequisite for taking Level 3, Warrior in the World, is successful completion of Level 2, Birth of a Warrior.
---
Pricing
Karmê Chöling values its commitment to making programs affordable and available to all who wish to study with us. To support this commitment we provide two program price options.
FULL PRICE: $540
This is the actual price of the program.
DISCOUNT PRICE: $400
We offer this discounted price to those who cannot afford the full price of the program. This price is made possible through the generosity of Karmê Chöling and our donors
Please Note:
Price does not include accommodations, which will be added during the registration process.
Payment Policies:
Karmê Chöling has updated its payment policies. The new policies apply to all programs that start after January 1, 2019. Please read the payment policies before proceeding with registration.
Financial Aid:
Karmê Chöling offers full-time student discounts, scholarships and other financial aid.
Program Credit:
If using existing program credit to pay for a program, you must pre-register for this program at least two weeks prior to the program start date by calling the front desk (802-633-2384 x3000). Program credit may not be used to pay for housing or practice materials and may not be used on or after arrival day.
Online registration is not currently open.
---
Teachers
About Bill Brauer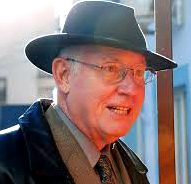 Bill Brauer has been a member of the Shambhala community for 50 years and was once the Executive Director of Karmê Chöling. He has taught extensively on Shambhala Buddhism throughout North America and Eastern Europe and continues to offer classes, seminars, and retreats at Karmê Chöling.
Share this Program: