POSTPONED: Scorpion Seal Assembly Year 7
with Acharya Christie Cashman
May 24 - June 4
We are looking to reschedule this program to Fall 2020. Please check back, or look out for an email about program updates.
[ Staffing Application now open]
Participants who have completed the Scorpion Seal Assemblies Year 1 - 6 are encouraged to gather for Scorpion Seal Assembly Year 7. Modelled after the traditional drupchen - great accumulation - this retreat will focus on intensive group practice of the Werma Sadhana and other practices received. Reading transmissions essential to the Scorpion Seal path will also be given.
Participants are asked to fully accomplish the number of required sessions from Scorpion Seal 6 before attending this assembly. Participants are also asked to please not attend more than one Scorpion Seal Assembly per program season.
ACCOMMODATIONS
Karmê Chöling strives to meet the housing requests of everyone attending Scorpion Seal Assemblies. Due to limited room and dorm space at both the main house and Ashoka Bhavan, priority goes to program staff, and people with physical limitations who have made arrangements well in advance.
If you fit into one of these categories, please email guestservices@karmecholing.org.
PROGRAM STAFFING OPPORTUNITIES
Scorpion Seal Assemblies are self-staffed. At Scorpion Seal Assembly 7, staff positions are open to both first time and repeat participants for tuition discounts. The staffing application now open. Submit an application at this link: Scorpion Seal 7 Staffing Application.
TRAVEL INFORMATION
Getting to Karmê Chöling is an adventure. Karmê Chöling recommends flying into Boston, taking a coach to Hanover, NH, then hiring a car to Karmê Chöling. If you have questions about how to accomplish that or if you are traveling by other means or into other hubs, you may find our Transportation page and our Rideshare Board page very helpful. For any additional questions you may have, please call our front desk at (802) 633-2384.
ARRIVAL & DEPARTURE
Please plan to arrive between 3-6pm on May 24, 2020. Dinner is offered at 6:30pm. The program begins at 7:30pm. June 4th is a departure day; you are free to leave anytime.
Prerequisites:
Successful completion of practice requirements from SSA6
---
Pricing
Karmê Chöling values its commitment to making programs affordable and available to all who wish to study with us. To support this commitment we provide two program price options.
FULL PRICE: $1860
This is the actual price of the program.
DISCOUNT PRICE: $1380
We offer this discounted price to those who cannot afford the full price of the program. This price is made possible through the generosity of Karmê Chöling and our donors
Payment Policies:
Karmê Chöling has updated its payment policies. The new policies apply to all programs that start after January 1, 2019. Please read the payment policies before proceeding with registration.
Financial Aid:
Karmê Chöling offers full-time student discounts, scholarships and other financial aid.
Program Credit:
If using existing program credit to pay for a program, you must pre-register for this program at least two weeks prior to the program start date by calling the front desk (802-633-2384 x-101 or x-103). Program credit may not be used to pay for housing or practice materials and may not be used on or after arrival day.
Online registration is not currently open.
---
Teachers
About Acharya Christie Cashman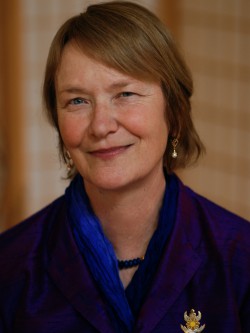 Acharya Christie Cashman first studied the dharma with Suzuki Roshi at age 18, while attending the University of California at Berkeley. Then, in 1971 she entered the Shambhala Buddhist path with Trungpa Rinpoche in Boulder, Colorado. For the first two years in Boulder, Christie lived in a little downstairs room in Trunga Rinpoche's house. He encouraged her to put away the guitar, practice meditation three hours a day, and enter long solitary retreats. Her life began to revolve around the retreats and intensive study of Buddhism. Along with many other students, she began to teach a full range of courses-from introductory meditation intensives at Naropa University to Vajrayana sadhana classes. For many years beginning in 1973, she attended and taught at the annual three-month seminaries and worked closely during that time with Rinpoche on teaching methods, course curriculum and implementation. During the 17 years Christie resided in Boulder, she worked full-time in Trungpa Rinpoche's international administration.

In 1987, when Christie moved to Nova Scotia, she spent a good part of each year in solitary retreat to delve further into the Shambhala terma tradition and vajrayana practice. During this time, she worked in the areas of environmental protection and dispute resolution before serving as the Shambhala Training International Executive Director. In 1999, Sakyong Mipham Rinpoche appointed Christie as an acharya, thus beginning a life of traveling and teaching. Her focus is on the vajrayana teachings and she is chaperone to the Sakyong's core text on visualization practice, which enriches and eases the journey from dualistic perception to pure appearance. As a Werma Acharya, Christie leads Scorpion Seal Assemblies. Christie and her husband live in Halifax, Nova Scotia.
Share this Program: