Tent Volunteer Weekend
May 6 - 10
---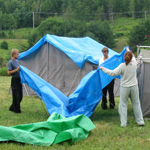 Karmê Chöling invites everyone to join us for this Spring weekend of exertion and meditation as we set up our seasonal campground. Come experience our special community and the joy of serving others by assisting our Facilities Team while working in wooded meadows, meditating, and making new friends.
Over the course of the weekend, volunteers work alongside staff to help with sorting camp gear, tidying the campsite, and setting up tents. These contemplative and crucial tasks are supported with twice-daily formal sittings and chants, good food, and plenty of conversation and connection. Our volunteer weekends are a great way to experience the vividly awake energy of Karmê Chöling without a big financial commitment.
Shrine room floor accommodations and meals are FREE for the weekend. Come experience a different aspect of the meditation path.
Important: You must be registered to participate
Please do so by clicking below and completing the registration process.
Arrival & Departure
Please plan on arriving between 3-6pm on Wednesday, May 6th, 2020, to register and check-in. Dinner is offered at 6:30pm. The program begins that evening at 7:30pm. The program ends around 5pm on Sunday, May 10, 2020. Partial attendance is allowed.
Online registration is not currently open.
Share this Program: