Garden Apprentice Program
with Master Gardener Jan Enthoven
April 13 - November 7
Entering its seventh year, the Garden Apprenticeship Program at Karmê Chöling is a unique six-month residential program. Based in meditation in action, this apprenticeship trains students in all aspects of organic gardening through close mentorship with Master Gardener, Jan Enthoven. Apprentices also participate in community living at Karmê Chöling – sharing home, meditation spaces, meals, and recreation.
The one-acre garden provides a ground for practice, learning, work, and play. A plethora of vegetables, herbs, flowers, and berries are grown and nurtured each year by our dedicated garden staff. During the growing season produce from the garden supplies the Karmê Chöling kitchen and cabin retreatants. A surplus of bounty nurtures our connection to the local community through households and food kitchens. The landscaping is a fertile space for learning more about growing annual and perennial flowers, as well as creating a nurturing environment for the staff and visitors at Karmê Chöling.
---
MEDITATION
This apprenticeship emphasizes the importance of meditation practice and an exploration of that experience infuses garden activities. It is mindfulness and awareness that are seen as the foundation to the garden, just as much as its humus-rich soil. Apprentices participate in daily group meditation practices and each apprentice has a meditation instructor to guide through their six-month residency.
The apprenticeship concludes with the opportunity to participate in two weeks of the 2019 Fall Dathün meditation retreat at Karmê Chöling.
---
PROGRAM CURRICULUM
Apprentices work closely with Master Gardener Jan Enthoven and are introduced to all aspects of the garden operation, from seed sowing, composting and irrigation, to harvesting and garden planning. Learning is based on hands-on training and in depth readings. The reading curriculum helps inform daily observations made in the field. This study is shaped by the best learning practices of each individual and discussion infuses the work day. Topics in the curriculum include:
Communication with nature

Seed sowing and plant propagation

Best watering practices and irrigation

Introduction to the soil food web

How to build superior compost

Garden design

Soil nutrient balancing

Crop rotation planning

Pest and disease management
The fruit of learning comes from following one's inspiration through discipline and exertion. Apprentices are encouraged to take ownership of various tasks as their confidence grows and understanding deepens.
Apprentices are encouraged to join the rhythm of the community in work and practice, which includes a 5-hour workday, 5 days a week, and daily group meditation practice. Apprentices do not need to have gardening experience prior to applying for the apprenticeship; however, apprentices must be self-motivated individuals interested in combining working with the earth and all its weather, their minds, and the community. The aim of the program is to enable apprentices to have a solid foundation in meditation and an understanding of the basics of growing a garden.
---
Pricing Information:
Includes: Meals, a combination of dorm room and tent accommodations.
Financial Aid: Limited financial aid may be available. Please include a statement of need in your application if you require financial aid to participate in this program.
Questions? Email the Garden Manager
---
TESTIMONIALS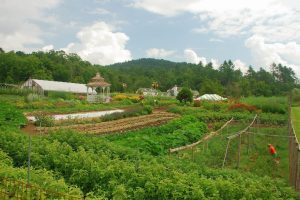 "Between learning about gardening, the ample time to practice (meditation), the wisdom gained from community living and the wonderful people that are here, the whole is greater than the sum of its parts." ~ Jonathan Z., Garden Apprentice
Watch a video of Waylon Lewis, founder of elephant magazine and elephantjournal.com, interviewing Karmê Chöling's former Garden Manager, Aaron DeLong, about his work in the Karmê Chöling garden, what he's learned from Jan, and how the Shambhala teachings have influenced his work in gardening.
---
---
Pricing
Program Fee: $3600
Payment Policies:
Karmê Chöling has updated its payment policies. The new policies apply to all programs that start after January 1, 2019. Please read the payment policies before proceeding with registration.
Financial Aid:
Karmê Chöling offers full-time student discounts, scholarships and other financial aid.
Program Credit:
If using existing program credit to pay for a program, you must pre-register for this program at least two weeks prior to the program start date by calling the front desk (802-633-2384 x-101 or x-103). Program credit may not be used to pay for housing or practice materials and may not be used on or after arrival day.
Online registration is not currently open.
---
Teachers
About Master Gardener Jan Enthoven
Jan Enthoven, Master Gardener, descends from a long line of Dutch fruit and vegetable growers. Interested in organic farming since childhood, Mr. Enthoven visited renowned Buddhist farmer-philosopher, Masanobu Fukuoka during his travels through Asia in 1982. Inspired by Mr. Fukuoka's approach, Jan embraced ecological farming methods, and his farm became organically certified in 1983.

Drawn to the Shambhala teachings, Jan visited Karmê Chöling in 1988. Delighted by the people and landscape of Vermont, he agreed to be Karmê Chöling's master gardener. Since that time, Jan's organic garden has drawn thousands of visitors, and Jan has mentored many garden enthusiasts. He teaches garden internships for new and experienced gardeners and has written articles for newspapers and magazines.
Share this Program: