Birth of the Warrior: Shambhala Training Level II
with Benoit Cote
February 24 - 26
---
"The point of Shambhala Training is to get out of the cocoon, which is the shyness and aggression in which we have wrapped ourselves… A Shambhala warrior is someone who is brave enough not to give in to the aggression and contradictions that exist in society…who is able to step out of the cocoon--that very comfortable cocoon that he or she is trying to sleep in." - Chögyam Trungpa Rinpoche
Examine your fears and habitual patterns by training the mind to meet challenging moments with courage and confidence. Birth of a Warrior: Shambhala Training Level II builds on the foundation of the meditation practice that was introduced in Shambhala Level I and explores how habitual ways of thinking, termed cocoon in Shambhala Training, obscure the raw brilliance of ourselves and the world we live in.
By opening to our own genuineness and tenderness, we learn how to work with fear to cultivate the willingness to see our deep-seated habits and defenses. This weekend program intensifies the discipline of meditation practice, which enables us to begin seeing through obscurations of habitual patterns that we have created over time.
With the guidance of a senior Shambhala teacher and a group of experienced meditation instructors, you will learn a meditation practice that builds upon the mindfulness-awareness technique of Shambhala Training Level I. This program provides students with real techniques for working with fear and habitual patterns of thought and behavior.
Shambhala Training Level II includes:
• Guided meditation instruction
• Mindfulness meditation talks by a senior teacher
• Group discussions
• Optional one-on-one meditation instruction
• Mindfulness movement exercises
About Shambhala Training
Shambhala Training offers a structured path of meditation and emotional intelligence education rooted in the ancient wisdom of the Shambhala tradition and created for the challenges of modern, everyday existence.
The Shambhala Training path consists of programs suitable for both beginning and experienced meditators, and open to people of any spiritual tradition.
This comprehensive overview of mindfulness meditation and contemplative living practices presents the view that when we foster a more awake relationship with ourselves, we are creating a more awake and compassionate world.
Arrival & Departure
Please plan on arriving 3-6pm on February 24, 2019 to check-in and register. Dinner is offered at 6:30pm. The program begins at 7:30pm. Departure is after 6pm on February 26, 2019.
Prerequisites:
Completion of The Art of Being Human: Shambhala Training Level I.
---
Pricing
Karmê Chöling values its commitment to making programs affordable and available to all who wish to study with us. To support this commitment we provide two program price options.
FULL PRICE: $390
This is the actual price of the program.
DISCOUNT PRICE: $320
We offer this discounted price to those who cannot afford the full price of the program. This price is made possible through the generosity of Karmê Chöling and our donors
Payment Policies:
Karmê Chöling has updated its payment policies. The new policies apply to all programs that start after January 1, 2019. Please read the payment policies before proceeding with registration.
Financial Aid:
Karmê Chöling offers full-time student discounts, scholarships and other financial aid.
Program Credit:
If using existing program credit to pay for a program, you must pre-register for this program at least two weeks prior to the program start date by calling the front desk (802-633-2384 x-101 or x-103). Program credit may not be used to pay for housing or practice materials and may not be used on or after arrival day.
Online registration is not currently open.
---
Teachers
About Benoit Cote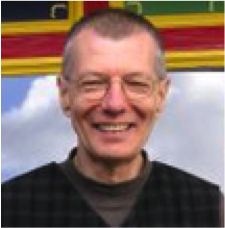 Benoît Côté has been a student of Shambhala Buddhism since 1976. For many years, he was a member and part of the teaching and administrative staff of Centre Shambhala de Montréal. In 2002, he retired from his university professor position in Educational Psychology to be involved fully with Shambhala. He then started being part of the teaching staff of international seminaries and directing programs at the land centers. From 2005 to 2007, he was resident teacher at Karmê Chöling and member of the Mukpo Institute faculty. In 2009, he moved to Halifax, and in 2010, was appointed by Sakyong Mipham Rinpoche as one of the shastris for the Halifax Shambhala Center. In 2015, he moved back to Montréal where he also served as shastri until 2018.
Share this Program: