Notice
: Undefined index: HTTP_REFERER in
/var/www/www.karmecholing.org/wp-content/plugins/karme-choling-custom-data/SMARTY/lib/metrics.lib/
on line
23
Werma Sadhana Winter Retreat
with Benoît Cote
December 26, 2018 - January 1, 2019
The Werma Sadhana is a profound key to understanding and manifesting awake society in our lives. Through deepening our practice, we can become more and more familiar with our inherent nature, discovering brilliant awareness on the spot, whatever our circumstance.

This retreat will include intensive practice of the sadhana as well as study and contemplation of basic themes of the Shambhala vajrayana teachings such as: Devotion and Transmission, Ashe as Seed Syllable, Purity and Equality, Yiddam Practice. There will be some sessions of Dharmaraja Guru Yoga and Ashe stroke practice.

This retreat is meant to appeal to all Werma practitioners, wherever you are on the Scorpion Seal path.
About the Holiday Programs at Karmê Chöling
This program is a part of an exciting winter holiday family week at Karmê Chöling. The week is arranged so that parents, children, and teenagers can all participate in their own programs and enjoy time together on the beautiful, wintry land of Karmê Chöling. This is a lively week full of laughter, bustle, and the energy of children!
We will come together as a community several times over the course of the week to celebrate and enjoy one another's company.
Arrival & Departure
Please plan on arriving between 4pm and 6pm on December 26, 2018 to check in and register. Dinner is offered at 6:00pm. The program begins at 7:00pm. January 1, 2019 is departure day; you are free to leave at any time.
Prerequisites:
Rigden Abhisheka or received Werma Sadhana at Kalapa Assembly and attended Vajrayana Seminary.
---
Pricing
Karmê Chöling values its commitment to making programs affordable and available to all who wish to study with us. To support this commitment we provide two program price options.
FULL PRICE: $740
This is the actual price of the program.
DISCOUNT PRICE: $590
We offer this discounted price to those who cannot afford the full price of the program. This price is made possible through the generosity of Karmê Chöling and our donors
Daily Fee: $120
Payment Policies:
Karmê Chöling has updated its payment policies. The new policies apply to all programs that start after January 1, 2019. Please read the payment policies before proceeding with registration.
Financial Aid:
Karmê Chöling offers full-time student discounts, scholarships and other financial aid.
Program Credit:
If using existing program credit to pay for a program, you must pre-register for this program at least two weeks prior to the program start date by calling the front desk (802-633-2384 x-101 or x-103). Program credit may not be used to pay for housing or practice materials and may not be used on or after arrival day.
Online registration is not currently open.
---
Teachers
About Benoît Cote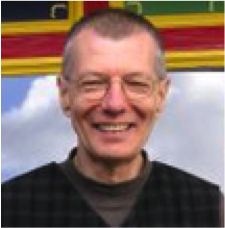 Benoît Côté has been a student of Shambhala Buddhism since 1976. For many years, he was a member and part of the teaching and administrative staff of Centre Shambhala de Montréal. In 2002, he retired from his university professor position in Educational Psychology to be involved fully with Shambhala. He then started being part of the teaching staff of international seminaries and directing programs at the land centers. From 2005 to 2007, he was resident teacher at Karmê Chöling and member of the Mukpo Institute faculty. In 2009, he moved to Halifax, and in 2010, was appointed by Sakyong Mipham Rinpoche as one of the shastris for the Halifax Shambhala Center. In 2015, he moved back to Montréal where he also served as shastri until 2018.
Share this Program: