Kyudo: Japanese Archery Intensive
with Don Symanski
June 27 - July 1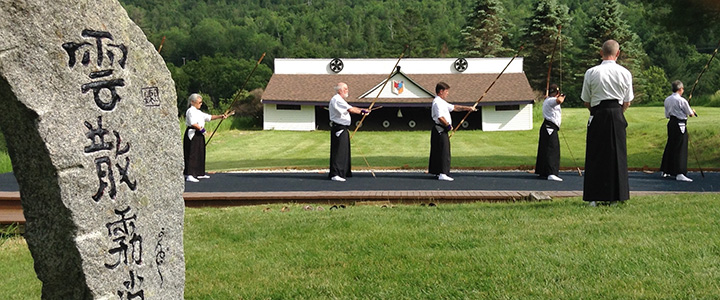 "Through kyudo one can learn to live beyond hope and fear, how to be." – Chögyam Trungpa Rinpoche
Seiko Kyudojo welcomes kyudo teacher Don Symanski. As a longtime kyudo practitioner and meditation student, Don's teachings align the technical form with the contemplative aspects of the practice.
This is an opportunity to join together for an extended period of group practice in a retreat setting. Along with offering thoughtful insights into the meditative qualities of the form and practical instruction, Don will share his extensive knowledge of yumi care and maintenance.
Arrival & Departure
Please plan to arrive between 10:30 am and noon on Wednesday, June 27, 2018, to register and settle in. Lunch is at 12:30 pm.The program begins at 1:30 pm and ends Sunday, July 1, at 3 pm. While there is great benefit attending the entire program, participants may register for a single day or multiple days of attendance. Contact Guest Services at 802-633-2384 or info@karmecholing.org for per-day registration. Class equipment is available.
For questions regarding the program please contact: Grace DiNapoli gdinapoli@karmecholing.org
Prerequisites:
First Shot
---
Pricing
Karmê Chöling values its commitment to making programs affordable and available to all who wish to study with us. To support this commitment we provide two program price options.
FULL PRICE: $540
Those who can are encouraged to register using this option.
DISCOUNT PRICE: $430
To encourage all to study, we offer this discounted price to those who cannot afford the full price. Charitable donations provide the funding to make this pricing option available. We thank our donors for their generosity.
Daily Fee: $95
Financial Aid
Karmê Chöling offers interest-free payment plans, scholarships, and other financial assistance.
Online registration is not currently open.
---
Teachers
About Don Symanski
Don Symanski began the study of kyudo with the late Kanjuro Shibata XX, Sendai in 1980. He has been making yumi since 1991and continues to teach and inspire students internationally. Don lives and practices his art of yumi making in Lafayette, Colorado.
Share this Program: