Dathün: A Month of Meditation
with Acharya William McKeever and Shastri Calryn Aston
April 7 - May 7
This program may be taken on its own or as part of the Mukpo Institute, a three-month residential program.
Special Funding Available
If you are an educator, M.Ed. student, health care professional or artist, you may be eligible for special financial support through Hemera's Contemplative Fellowships.
---
A dathün or "month session" is an in-depth introduction to and deepening of the mindfulness-awareness meditation technique. Doing this practice transforms how we relate to ourselves and everyday life by allowing us to get to know our mind and patterns.
Dathüns also explore the Shambhala principle of basic goodness -- that we are all, at the core, worthy and complete. Learning this principle is a journey where by we make friends with who we are and draw out our inherent fearlessness.
From this point of view, meditation is not a tool to fix ourselves or improve our abilities. Rather, it is a direct path to connecting with our fundamental wisdom.
As the daily meditation practice and routine of this retreat unfolds, we will discover an atmosphere in which we can trust in the experience of truly feeling ourselves, the natural world, and human society.
Retreats like this one happen multiple times throughout the year. Learn More
Practice Includes:
Sitting and walking meditation
Individual meditation instruction
Talks by senior teachers
Study periods
Silence practice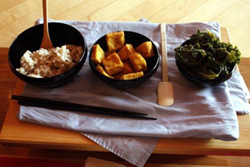 Sample Schedule
7:00am Early Morning Practice Session
8:00am Oryoki-style* Breakfast
9:00am Morning Practice Session
12:30pm Oryoki-style* Lunch
1:30pm Work Period
3:00pm Afternoon Practice Session
4:00pm Tea Break
4:30pm Late Afternoon Practice Session
6:00pm Oryoki-style* Dinner
7:00pm Evening Practice Session
9:00pm End of Day
* Oryoki ("just enough") synchronises mind and body by bringing mindfulness to how we eat. Eating oryoki-style, in a prescribed manner and sequence, follows a tradition that began in Zen Buddhist monasteries.
---
Additional Information:
Participants may attend the first week, the first two or last two weeks, or the full retreat.
This retreat fulfills the dathün practice requirement for the Shambhala Buddhist path.
Arrival & Departure
Please plan to arrive between 3-6pm on Saturday, April 7, 2018. The program begins that evening at 7:30pm. May 7, 2018 is a departure day. You are free to leave at anytime.
---
Pricing
Karmê Chöling values its commitment to making programs affordable and available to all who wish to study with us. To support this commitment we provide two program price options.
FULL PRICE: $2000
Those who can are encouraged to register using this option.
DISCOUNT PRICE: $1575
To encourage all to study, we offer this discounted price to those who cannot afford the full price. Charitable donations provide the funding to make this pricing option available. We thank our donors for their generosity.
Financial Aid
Karmê Chöling offers interest-free payment plans, scholarships, and other financial assistance.
Please Note:
Price includes meals and basic accommodations on the shrine room floor.
Online registration is not currently open.
---
Teachers
About Acharya William McKeever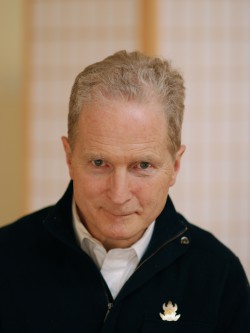 Norbu William McKeever has been a student of Shambhala and Buddhism since 1972 when he met Chögyam Trungpa Rinpoche while getting his degree in Buddhist Studies at Yale. Immediately following graduation he moved to Tail of the Tiger, now Karmê Chöling, to begin his dharma study, practice and teaching. Norbu has served as director of Karmê Chöling; Vice President of Naropa University - where he coordinated the university's successful accreditation effort; faculty member of Naropa's graduate department of contemplative psychotherapy; Founding Director of the Ryuko Kyudojo; Assistant Director of Education for Nalanda Foundation; as well as a member of the Shambhala Board of Directors under Sakyong Mipham Rinpoche. He has been a member of the Shambhala Trust since its inception until 2002 and served as its chairman.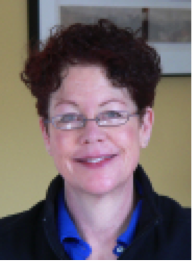 About Shastri Calryn Aston
Calryn Aston has been a student of Sakyong Mipham Rinpoche since 1997 and has been teaching across the Colorado Front Range and New Mexico since 2003. She hosts a weekly meditation group in her hometown of Jamestown, Colorado and has served as a director and a meditation instructor for many Shambhala programs and classes. She is the mother of two adult sons and works as a journalist and coach. Her present interest is working with regional and international groups to integrate mindfulness practice in disaster response and resilience trainings.
Share this Program: