Qigong Levels 1-3
with Acharya Suzann Duquette
April 25 - 29, 2018
This program may be taken on its own or as part of the Mukpo Institute, a three-month residential program.
Qigong is designed to cultivate strength of body and calmness of mind through Taoist practices that integrate movement, breath, and qi, or internal energy, to promote health and longevity. A form of gentle, relaxing exercise, qigong strengthens joints, muscles, tendons, and bones, increases flexibility, stimulates the circulation of energy in our body, and enhances mental clarity. Qigong is also an excellent way to gently introduce mobility and relaxation to persons who have physical challenges. Talks on qigong, Chinese medicine and Taoism will be included.
This intensive is a rare opportunity to receive instruction in two unique qigong lineages, the Pre-Celestial Limitless Gate School (Xiantianwujimen) and the Yiquan School. Xiantianwujimen was founded in the Song dynasty (circa 10th to 12th centuries) by Daoist sage Chen Xiyi, who is recognized as "the father of qigong."
This is through the lineage handed down by Dr. Eva Wong. Rupa Acharya Suzann Duquette has received the transmissions from Dr. Eva Wong.
In Level 1, students will be in instructed in various techniques of outer and inner qigong. Outer qigong is concerned with strengthening the muscular-skeletal system: joints, muscles, tendons, bones, and spinal column. It includes techniques of tendon changing, marrow washing, self-massage, and calisthenics. Inner qigong is concerned with nourishing the internal organs and cultivating qi, or internal energy. Students will learn Chen Xiyi's sleeping and walking qigong and Wang Xiangzhai's standing qigong.
In Level 2, the focus will be on tendon changing and self-massage. The Twelve Devas Tendon-Changing System and the Nine Self-Massage System will be taught in their entirety.
The cultivation of body needs to be balanced by the cultivation of mind. Therefore, Shambhala shamatha meditation will be integrated with qigong practice throughout the program.
In Level 3 students will learn:
Hua Tu's Five Animals Calisthenics and tendon-changing Techniques. The five animal forms covered are: tiger, bear, deer, monkey, and bird. The tiger form trains tendon strength, the bear form trains bone strength, the deer form focuses on preserving generative energy, the monkey form trains agility, and the bird form trains balance.
Part 1 of Chen Xiyi's Red Phoenix Calisthenics System. This system combines tendon-changing, calisthenics, self-massage, and breath regulation.
More standing qigong postures from Wang Xiangzhai's Yiquan System.
Arrival & Departure
Please plan on arriving between 3-6pm on April 25, 2018, to register and check-in. Dinner is offered at 6:30pm. The program begins that evening at 7:30pm. The program ends on April 29, 2018, at 6:00pm.
---
Pricing
Karmê Chöling values its commitment to making programs affordable and available to all who wish to study with us. To support this commitment we provide two program price options.
FULL PRICE: $790
This is the actual price of the program.
DISCOUNT PRICE: $670
We offer this discounted price to those who cannot afford the full price of the program. This price is made possible through the generosity of Karmê Chöling and our donors
Daily Fee: $100
Payment Policies:
Karmê Chöling has updated its payment policies. The new policies apply to all programs that start after January 1, 2019. Please read the payment policies before proceeding with registration.
Financial Aid:
Karmê Chöling offers full-time student discounts, scholarships and other financial aid.
Program Credit:
If using existing program credit to pay for a program, you must pre-register for this program at least two weeks prior to the program start date by calling the front desk (802-633-2384 x3000). Program credit may not be used to pay for housing or practice materials and may not be used on or after arrival day.
Online registration is not currently open.
---
Teachers
About Acharya Suzann Duquette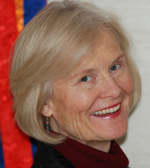 Acharya Duquette has been a student in the lineage of Sakyong Mipham Rinpoche and the Vidyadhara, Chögyam Trungpa Rinpoche for 45 years and has served as a leader and teacher since the 1980s. Former co-director of Karmê Chöling, she is currently the center's Resident Acharya. She is also Rupa Acharya, responsible for Shambhala's liturgical forms, which includes the training of umdzes and chöpöns through the Shambhala Ritual Academy. Acharya Duquette respects the power of body awareness in deepening spiritual awakening and emphasizes body disciplines in her retreats and programs. She teaches widely, including Mudra Space Awareness and Daoist-Qigong.
Share this Program: