Awake Society, Now
with Acharya Adam Lobel
October 27 - 30, 2017
"We must hoist the victory banner high so that all know where to gather." - Sakyong Mipham
Gather with a community of spiritual warriors to unite Shambhala's spiritual teachings and its vision of enlightened society. Over this long weekend, we will look directly at spiritual practice and socio-political practice to shine light on the habitual challenges that we hold within ourselves and our current culture. Inquiring into the present, we find that our own freedom is bound up with others, with politics and justice, and with our planet.
Silent mornings will hold space for meditation teachings and personal inquiry. We will explore how we hold socio-political, ecological, and economic confusion in our own being and begin to heal those wounds. We aspire to rediscover and feel a different subjectivity—free from the speed, self-aggression, and ignorance of the modern paradigm of late-stage capitalism.
The afternoons will focus on collective dialogue, teachings, and activities to experience and learn about the intersection of meditation, critical thought, politics, ecology, and revolutionary perspectives.
There will also be time to soak in the natural and healing beauty of autumn in Vermont and commune with the elements. Expect intimate walks and campfire stories under the stars. Overall, we aspire to embody wakeful community in how we are together; to be in the present and experience living Shambhala, now.
This program is open to anyone interested in the intersection between mindfulness, spirituality, and political-ecological themes. No prior background in Shambhala, meditation, politics, or activism is required.
Arrival & Departure
Please plan on arriving between 3 - 6pm on Friday, Oct. 27, 2017, for check-in and registration. Dinner is at 6:30pm. Program begins at 7:30 pm. The program ends around 5pm on Monday, Oct. 30, 2017.
---
Pricing
Karmê Chöling values its commitment to making programs affordable and available to all who wish to study with us. To support this commitment we provide two program price options.
FULL PRICE: $545
Those who can are encouraged to register using this option.
DISCOUNT PRICE: $425
To encourage all to study, we offer this discounted price to those who cannot afford the full price. Charitable donations provide the funding to make this pricing option available. We thank our donors for their generosity.
Financial Aid
Karmê Chöling offers interest-free payment plans, scholarships, and other financial assistance.
Online registration is not currently open.
---
Teachers
About Acharya Adam Lobel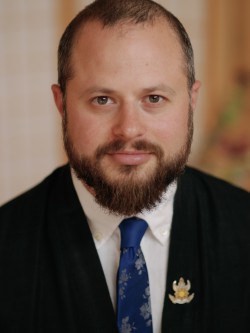 Acharya Adam Lobel, Mdiv. Harvard Divinity School, Doctoral Candidate, Harvard University, is an acharya or authorized lineage teacher in the Shambhala Buddhist tradition. A close student and representative of Sakyong Mipham Rinpoche, he travels globally leading meditation workshops, lecturing, and teaching on the social vision of Shambhala. He is responsible for curriculum development and teacher training for the international Shambhala community. Acharya Lobel is active in ecological and social justice movements, and recently represented Shambhala at the United Nations, the White House, and in the Standing Rock protection of water and protests of the Dakota Access oil pipeline. As a scholar of philosophy and religion, Adam's research focuses on meditation practice and pedagogy in the Great Perfection (Dzogchen) tradition of Tibetan Buddhism and modern phenomenology. Adam lives in Pittsburgh, PA with his wife and two sons. http://www.adamlobel.org
Share this Program: