Mudra Space Awareness
with Acharya Suzann Duquette
March 17 - 19, 2017
This program may be taken on its own or as part of the Mukpo Institute, a three-month residential program.
Mudra Space Awareness is a mind/body transformation method developed by The Venerable Chögyam Trungpa Rinpoche. Inspired by his education in Tibetan Monastic dance, the Mudra exercises combine intense physical training with focused sensory awareness to unlock our inherent freedom and create a radical shift in our understanding of the mind/body relationship to space.
In the early 1970s, Chögyam Trungpa Rinpoche introduced Mudra practice before he formally conferred Vajrayana (Tantric Buddhist) teachings to his American students. This practice accessed the qualities of Dzogchen and Mahamudra that dissolve distinctions between the sacred and profane aspects of experience. Mudra was presented initially as theater training to some of the foremost theater innovators of that decade. Mudra has since been applied, both as an adjunct to formal sitting meditation, and increasingly as a means for developing meditation in action.
"The Vidyadhara's teachings on Mudra Space Awareness are one of Shambhala's hidden treasures. The cycle of exercises embody his creative genius in making the vajrayana teachings accessible and penetrating. He begins at the beginning-how to be in space-then takes us step by step through how to stand, walk, relate with things, and interact with people. So simple, yet so revealing! "
-Ashe Acharya John Rockwell
To find out more about Mudra, please click here.
This program begins at 7:30pm on March 17, 2017 and ends around 5:00pm on March 19, 2017.
---
Pricing
Karmê Chöling values its commitment to making programs affordable and available to all who wish to study with us. To support this commitment we provide two program price options.
FULL PRICE: $385
Those who can are encouraged to register using this option.
DISCOUNT PRICE: $325
To encourage all to study, we offer this discounted price to those who cannot afford the full price. Charitable donations provide the funding to make this pricing option available. We thank our donors for their generosity.
Financial Aid
Karmê Chöling offers interest-free payment plans, scholarships, and other financial assistance.
Online registration is not currently open.
---
Teachers
About Acharya Suzann Duquette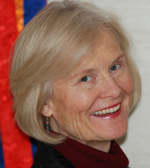 Suzann is an Acharya, a senior teacher and representative of Sakyong Mipham Rinpoche. She has been a student, leader, and teacher in the Shambhala lineage since 1974. A former co-director of Karmê Chöling, Suzann is currently Resident Acharya for the center and a core faculty member of Karmê Chöling's Mukpo Institute. She is also Rupa Acharya. In this position, she is responsible for maintaining and fostering the sacred ceremonial and liturgical forms of Shambhala.

Acharya Duquette teaches widely. She respects the power of embodiment in bringing conceptual learning to manifestation, and emphasizes body awareness and disciplines in all her teaching. The Acharya is a Qigong instructor in the lineage of Eva Wong, a Lujong or Warrior Exercises instructor in the lineage of Khenpo Tsultrim Gyamtso, Rinpoche, and a Mudra Space Awareness teacher in the lineage of Chögyam Trungpa, Rinpoche. She lives with her husband, Jan, in Barnet, where they own a bed and breakfast, Blue Skies Guesthouse.
Share this Program: