CXL:Meditation: Tools for Living
with Sal DeMaio and Caroline Demaio
October 19
Learn mindfulness meditation, a simple technique for training the mind's alertness and presence to bring flexibility and poise into daily life situations in the home or workplace. Whether dealing with distractedness, busyness, information overload, or other stressful situations, mindfulness allows us to appreciate the challenges of life and respond with confidence.
In this interactive workshop you will learn to:
Practice mindfulness meditation
Communicate mindfully with others
Work through fear to respond with fearlessness
Open to creative solutions
The program will begin at 10:30am and end at 4pm.
---
Pricing
Karmê Chöling values its commitment to making programs affordable and available to all who wish to study with us. To support this commitment we provide two program price options.
FULL PRICE: $50
Those who can are encouraged to register using this option.
DISCOUNT PRICE: $40
To encourage all to study, we offer this discounted price to those who cannot afford the full price. Charitable donations provide the funding to make this pricing option available. We thank our donors for their generosity.
Financial Aid
Karmê Chöling offers interest-free payment plans, scholarships, and other financial assistance.
Please Note:
Price includes meals but not accommodations.
By pressing "Register," you agree to allow Karmê Chöling to charge any balance owed for this program two weeks prior to the program start date against the card you use to make your deposit unless you make other arrangements with Karmê Chöling prior to that date.
Online registration is not currently open.
---
Teachers
About Sal DeMaio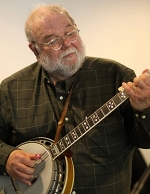 Sal DeMaio is a real estate appraiser. He is also a dedicated banjo and guitar player and has worked with many bands in the Northeast Kingdom during the last 40 years. Sal has studied Buddhism and meditation for many years. He has been active in a prison out-reach program in St. Johnsbury, and he is the coordinator of Ordinary Magic, a weekly open house at the St. Johnsbury Shambhala Center. He is also an instructor of Golden Ball Tai Chi.

About Caroline Demaio
Caroline DeMaio recently retired from her position as school library media specialist at the Danville School, grades K-12. She has lived in the Northeast Kingdom for over 45 years, and has served on many community boards, including Umbrella, the Chamber of Commerce, Catamount Arts and the St. J Athenaeum. Ms. DeMaio has studied meditation and Buddhism for many years. She is a student of ikebana, Japanese flower arranging. She is a past chair of the Karmê Chöling board of directors and of the St. Johnsbury Shambhala Center Council.
Share this Program: