Engaging with Shambhala Vision: Three Pillars Leadership Gathering
with Sakyong Mipham Rinpoche
May 15 - 20, 2013
This program may be taken on its own or as part of the Mukpo Institute, a three-month residential program.
The success of our community will depend on what kind of culture we create . . . Ultimately, the greatest influence on us and the larger world is the social culture we are fostering. With a deep certainty in who we are, we can extend our confidence and joy to others, which allows us to connect more easily with them. This is the external manifestation of our mandala, where we can interface with the world by offering myriad programs that connect with other organizations, communities, businesses, and government agencies, enabling healthy and productive networking to occur. Such interface will foster the growth of a greater community of enlightened culture.

-- Sakyong Mipham Rinpoche,
Letter of the Morning Sun

This gathering for leaders – both active and aspiring – in all three pillars of Shambhala will be part of a mandala-wide exploration of the ways in which we can more fully embody our teachings and develop the transformative culture of an enlightened society.

The Sakyong will address us and lead us personally for two of the four days of this gathering.

The four days will include practice and contemplations, based on the Six Ways of Ruling and selected passages from The Shambhala Principle and The Treatise on Enlightened Society. We will revisit and recommit to the Shambhala Vow and Enlightened Society Vow, and engage in the practice of Shambhala Meditation.

There will be relaxed, social time set aside to give leaders in similar areas and roles to meet and exchange with each other.

There will be a full day of facilitated exploration of what it means for all of us to engage with the Sakyong's 2020 Vision as he is unfolding it. What does it mean to envisage Shambhala in the way he is now describing in his talks to our community and to the world around us?


The Leadership Training with Sakyong Mipham Rinpoche is the culmination of three online trainings given by the Sakyong. The only requirement for attendance is to be an aspiring or active leader within any of these groups:

Governance:
The Kalapa Council; Sakyong Ladrang; Kalapa Court; Kalapa Executive; Centre Directors and Group Coordinators; all positions related to Finance, Development, and Patronage: Kalapa Patrons, Shambhala Trust, Sakyong Foundation, Potrang; Culture and Decorum Representatives; Societal Health and Well-being Directors; local Shambhala Council Members; all positions related to Publicity, Media, Communications and Technology; Delek leaders; and all other members of the Mandala Council.

Practice and Education:
All roles related to Practice and Education: Acharyas, Shastris, all teachers, Meditation Instructors, Shambhala Guides, Chopons, and all others in the "Centre Admin Function" field of the SDB, which includes roles such as 'Shambhala Resident Director' and 'Nalanda Coordinator,' etc.

Protection:
The Dorje Kasung will send invitations through the line command.

The online teachings preceding the Three Pillar Leadership Retreat are intended to prepare the ground for the teachings presented within the retreat. They are strongly recommended for all participants but are not, however, a requirement to attend the retreat.
The online training dates are:
Sakyong Address to the Pillar of Practice and Education -- 2pm Atlantic time, Saturday 23 February 2013
Sakyong Address to the Pillar of Governance -- 2pm Atlantic time, Saturday 9 March 2013
Sakyong Address to the Pillar of Protection -- 2pm Atlantic time, Saturday 13 April 2013
Northeast Regional Leadership Retreat
Karmê Chöling is pleased to also invite Center Directors and Group Coordinators from the Northeast to stay an additional day on May 20 to explore the potential power in collaborating as a region to move the Sakyong's vision forward. Please register if you plan to attend.
---
Pricing
Karmê Chöling values its commitment to making programs affordable and available to all who wish to study with us. To support this commitment we provide two program price options.
FULL PRICE: $425
Those who can are encouraged to register using this option.
DISCOUNT PRICE: $325
To encourage all to study, we offer this discounted price to those who cannot afford the full price. Charitable donations provide the funding to make this pricing option available. We thank our donors for their generosity.
Materials Fee: $3
Financial Aid
Karmê Chöling offers interest-free payment plans, scholarships, and other financial assistance.
Please Note:
Price includes meals but not accommodations.
By pressing "Register," you agree to allow Karmê Chöling to charge any balance owed for this program two weeks prior to the program start date against the card you use to make your deposit unless you make other arrangements with Karmê Chöling prior to that date.
Online registration is not currently open.
---
Teachers
About Sakyong Mipham Rinpoche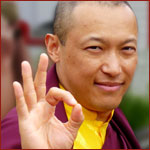 Sakyong Mipham Rinpoche is the head of the Shambhala lineage. An incarnation of Mipham the Great, he is the dharma heir and son of Chogyam Trungpa Rinpoche, Shambhala Mountain Center's founder. Sakyong Mipham is the spiritual director of Shambhala, a global network of meditation and retreat centers, and the author of the national bestseller Turning the Mind into an Ally, as well as Ruling Your World, Running with the Mind of Meditation and The Shambhala Principle. His background embraces both Eastern and Western cultures. Born in Bodhgaya, India, the site of the Buddha's enlightenment, he grew up in Boulder, Colorado, and received his spiritual training from his father and other distinguished lamas. In addition to Shambhala, the Sakyong also holds the Kagyu and Nyingma lineages of Tibetan Buddhism. An avid poet, artist and athlete, he travels extensively teaching throughout the world.
Share this Program: