MUDRA MAGIC: You Are Your Own Gesture
with Suzann Duquette
August 26 - 28
Assisted by Alison Pepper, Kate Vlasic, and Tai Pimputkar
---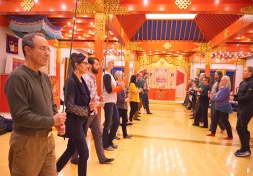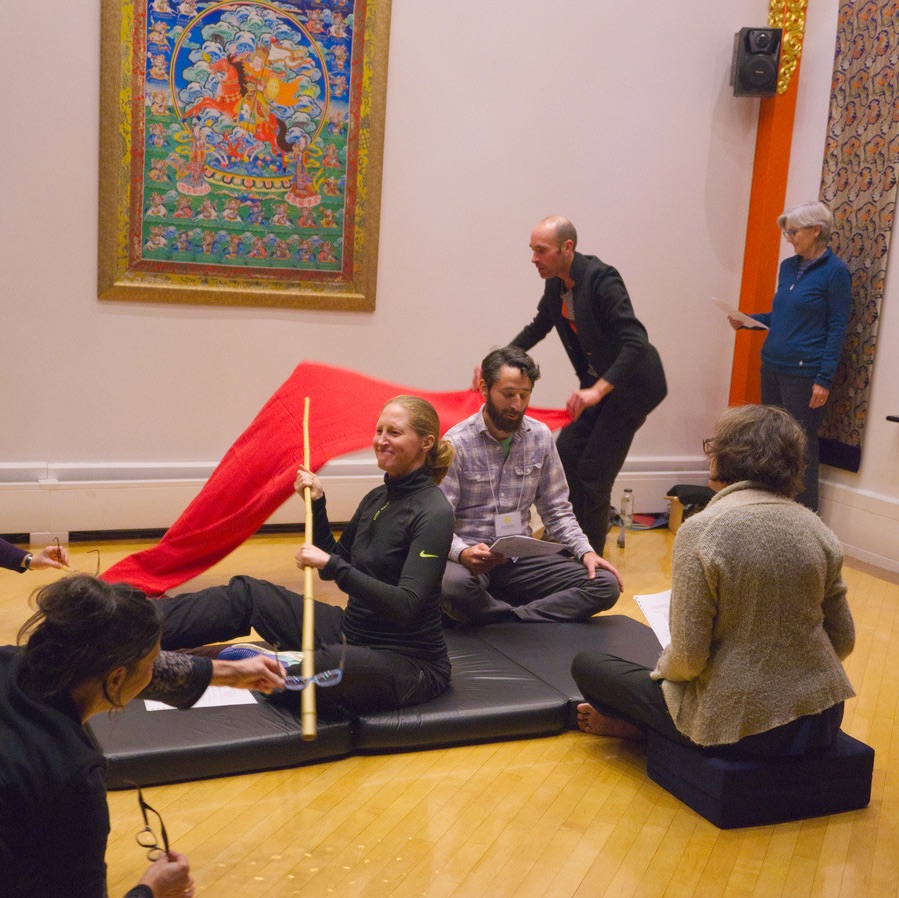 Mudra Space Awareness is a meditative discipline and penetrating art form that synchronizes body, heart, and mind. Mudra surprises us into connecting with our innate well-being, beyond ego mind, to appreciate ourselves, others, and the world. The methods of Mudra offer an immediate connection to being present, reveal the power of intensification and relaxation, and allow for fresh expression through movement and the sense perceptions.
Mudra applies to all aspects of our lives and engagement in the world, exploring questions like:
How can I stay present to meet today's uncertainties and challenges?
How do I open my senses to perceive what is really going on?
Can I recognize and meet ever-changing physical, psychological, and emotional states of being with confidence?
What Will We Do in this Retreat?
Mudra, which means "gesture," is simple yet profound. As a discipline, Mudra aims to loosen the bonds of ego so we can connect more directly with nondual mind.
Each time ego mind arises, a simultaneous opportunity exists to meet reality and engage fully with now. This complete engagement, which can open our hearts and minds, unlock confidence, and bring about appreciation, is Mudra's magic. – Suzann Duquette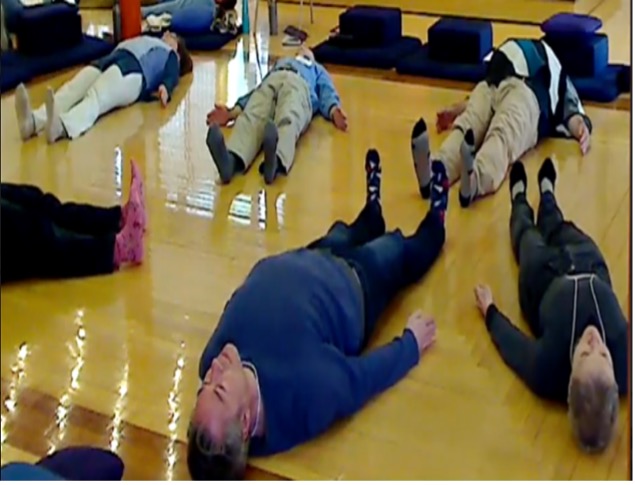 During this retreat, we will dive into the Mudra approach to experience our natural energies and sense perceptions. We will explore how this "experiencing" can transform our interactions with others and the environment.
Our time together will balance core intensification and relaxation exercises - the foundation for all other components of Mudra – with contemplation, sensory awareness exercises, individual reflection, group discussion, and improvisation. A session on plays that Chögyam Trungpa wrote for Mudra practitioners to perform will immerse us in applying Mudra methods - space, being, total involvement, delight, and sensory awareness.
Throughout the retreat, whether you are new or a more experienced practitioner of Mudra, you will have the opportunity to explore and deepen in
Being
Mudra meditation
Structured core exercises that align body, heart, and mind
An experiential glimpse of non-dual perception, in which self and other co-arise in a moment of perception
Your sense perceptions and methods to enhance awareness of body, non-dual perception, and speech
Mudra slogan contemplation & related exercises to foster embodiment of these teachings
Improvisations to channel fearlessness and remain flexible in changing and challenging situations
Laughter
We may ignore or struggle against what's happening. With Mudra, we train to meet situations as they are, as we are, and "be" present. As one Mudra slogan reminds us, "You are your own Mudra."
What do you say about Mudra?
Mudra opens me to my life and the dharma in the most profound ways.

Mudra is a fierce invitation into the present moment out of conceptual mind.

Getting a taste of different energies, styles and personalities was very rich and inspiring. The co-creation of practice made the possibility to embody mudra principles in my life very real.

Mudra opens space for the body and invites the body into just sensing, like hearing the whole body.

Fills out the other teachings. So subtle and so deep and profound.

Extremely valuable, opportunity to experience different teachers and styles, approaches.
Mudra - A Brief History
Chögyam Trungpa introduced Mudra Space Awareness in the early 1970s as a tool for theater professionals, performance artists, dancers, musicians, and visual artists to explore how "self" arises from space. It developed into a number of Mudra Groups. Since being introduced, this rigorous practice has evolved to become a ground for many disciplines, including dharma art, and in fields such as psychology, teacher training, education, and eldercare. Mudra incorporates Tibetan monastic dance, theatre improvisation, and meditation to develop presence and authenticity – bringing meditation into action. Its methods help us to meet all aspects of our life with presence, mindfulness, and awareness.
This retreat is for you if you…
are interested in exploring gesture and space as they relate to being present
would like to meet yourself more fully through a series of intensive core exercises and deep work with the senses
are curious about nondualism and nonconceptual mind versus ego mind
would like to join with others in this exploration of presence through gesture
This retreat will be offered online. Pending the status of Covid, it will also be offered as an in-person retreat at Karmê Chöling. As an in-person retreat, Mudra is open to everyone; no prerequisites apply.
For those who are new to Mudra, an introduction will be offered on Sunday, August 7, 1:00p – 4:00p Eastern US time. Attending this 3-hour introduction and practice session will qualify you to attend the retreat via Zoom. Everyone is welcome to join this session, which will include a contextualization of Mudra, selected key postures and exercises, and discussion.
Please see the following link to adjust for your local time zone:
See World Clock/Main World Clock.
If you have any questions, we would love to hear from you. Please contact Joan Carney at MudraSpaceAwareness@gmail.com

---
Pricing
Karmê Chöling values its commitment to making programs affordable and available to all who wish to study with us. To support this commitment we provide two program price options.
FULL PRICE: $360
This is the actual price of the program.
DISCOUNT PRICE: $265
We offer this discounted price to those who cannot afford the full price of the program. This price is made possible through the generosity of Karmê Chöling and our donors
Payment Policies:
Karmê Chöling has updated its payment policies. The new policies apply to all programs that start after January 1, 2019. Please read the payment policies before proceeding with registration.
Financial Aid:
Karmê Chöling offers full-time student discounts, scholarships and other financial aid.
Program Credit:
If using existing program credit to pay for a program, you must pre-register for this program at least two weeks prior to the program start date by calling the front desk (802-633-2384 x3000). Program credit may not be used to pay for housing or practice materials and may not be used on or after arrival day.
Online registration is not currently open.
---
Teachers
About Suzann Duquette
Suzann Duquette began her lifetime exploration of Mudra in 1974 as part of the Berkeley Mudra Space Awareness group. Suzann sees the power of physical awareness and embodiment as essential to awakening. She has found Mudra to be a profound method for tasting direct experience and embodiment, and putting that into effective action in all aspects of her life. Among many Mudra gatherings, Suzann has co-taught two landmark Mudra retreats - the 2004 Dathün with Mudra with Dr. Craig Warren Smith and the 2019 Mudra Summit, both held at Karmê Chöling. Former co-director of Karmê Chöling and current senior teacher, Suzann is also an instructor of Daoist-Qigong in the lineage of Dr. Eva Wong. She lives with her husband, Jan Enthoven, in Barnet, where they own and run Blue Skies, a B&B.
Share this Program: