Short-Term Summer Residency 2021
May 1 - September 30, 2021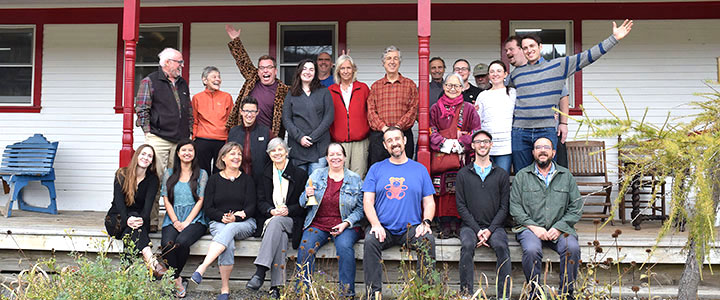 Summer is almost here. Come out to Karmê Chöling!
Over the last year, our Residency program has been home to remote-workers, college students, retirees, senior teachers...all with a desire to practice and live as a part of a mindful community.
While our typical Residencies last from three months up to three years. We know that many of you may not be able to commit to a full 3 months or more. If a one-to-two month stay feels more doable, our "Summer Short-Term Residency" option may be right for you!
What's included in Summer Short-Term Residency?

Here's a typical overview, based on a 1-month example:
Week 1: Quarantine*
A week of rest, online and in-person practice, guided study with full access to the KCL Land.
Week 2: (and beyond) is customized to your study and practice needs. This could include:
Free Participation in KCL programs including the Gesar cycle, Sacred Path and more!
A Personalized 'Practice and Study' plan designed to support you on your path. This could include anything from deepening on specific teachings practices such as our 'Gesar' cycle, Shambhala Meditation, Vajrayana practices or self-designed exploration of Shambhala Buddhist basics!
A personal Meditation Instructor
Two full practice sessions daily
Access to library and digital archives
Optional solitary cabin retreat
Plus enjoy the usual amenities that Karmê Chöling has to offer:
Live in community (without masks)
Opportunities to volunteer in the organic garden
Explore more than 700 acres of our magical woodland, streams, and hills
3 delicious meals a day from the KCL kitchen.
Visit the Purkhang
*NOTE on QUARANTINE: As of this moment, all incoming Residents are required to quarantine for 1 week and take a COVID test prior to entering the house. Our policy is likely to shift soon, as the vaccination process unfolds. We will update everyone as soon as possible, especially if the quarantine restriction is able to be lessened/lifted.
If you'd like to know more, reach out to our Residency Manager, JT Buck at jtbuck@karmecholing.org
You can also CLICK HERE TO APPLY TODAY!

Pricing

Setup/Move-In Fee
$150 ($50/person for each additional) This fee covers setup/organizing of the overall residency.
Meals (per week)
$400/Month (Age 12 and over)
$360/Month (Age 11 and under)
Housing: priced per month


| | | |
| --- | --- | --- |
| Outdoor options | 1-2 months | 3+ months |
| Our tent | $600/m | $500/m |
| Tent site | $450/m | $400/m |
| Tent cabin | $1200/m | $1000/m |
| | | |
| Indoor Options | Per month | |
| Dorm bed | $600/m | $600/m |
| Monk room | $1000/m | $1000/m |
| Yogi room | $1200/m | $1200/m |
| Abbot room | $1500/m | $1500/m |
| Mobility Accessible room | $900/m | $900/m |

EXAMPLE: Pricing Based on 1 Month, 2 Adults
| | |
| --- | --- |
| June 1 - 30th | Cost |
| | |
| Setup fee (2 adults) | $450 |
| Outdoor Housing: Tent Cabin | $1,200.00 |
| Food (2 Adults) | $800 |
| Programs | FREE FOR RESIDENTS! |
| | |
| Total: | $2450 |
Additional housing spaces, temporary personal office space and other amenities are also available. Additional fees apply.
Please reach out to our Residency Manager, JT Buck at jtbuck@karmecholing.org, for more details.
Prerequisites:
Karmê Chöling Residency is available to all who:
1. Are dedicated to the practice of meditation.
2. Have a positive association with the Shambhala tradition.
3. Are able to be in residence for at least 1 month between May and September of 2021.
After your application is recieved, you'll be contacted for a conversation by a member of our Residency team.
*Please apply no LATER than ONE MONTH prior to your intended Residency.
Online registration is not currently open.
Share this Program: