Garden Apprenticeship Program
with Master Gardener Jan Enthoven

Entering its sixth year, the Garden Apprenticeship Program (GAP) at Karmê Chöling is a unique six-month residential program in which participants are introduced to the theoretical foundations of organic gardening and deepen this understanding through experiential, hands-on work in the garden. Growth and learning are enhanced when combined with the cultivation of mindfulness and awareness. Apprentices are invited to fully integrate into community life, sharing home, meditation spaces, celebrations, and recreation.
The one-acre Karmê Chöling garden serves as a ground for learning, practice, work, and play. Its beauty and magic magnetizes visitors from around the world. Hundreds of varieties, including vegetables, herbs, flowers, berries, and mushrooms, are propagated each year by our dedicated garden staff. Produce from the garden supplies the Karmê Chöling kitchen during the growing season and beyond. The wide array of annual and perennial flowers attracts a plethora of pollinators and are used in flower arrangements in the shrine rooms and in special places around the house.
---
PROGRAM CURRICULUM
Apprentices are introduced to all aspects of the garden operation, from seed sowing, composting, and irrigation, to harvesting and garden planning. Teaching methods include classroom and practical field training. Apprentices are encouraged to take ownership of various tasks as their confidence grows and understanding deepens. Curriculum topics include:
Seed Sowing & Plant Propagation

Water & Irrigation

Soil Food Web

Building Compost

Garden Design

Soil Nutrient Balancing

Crop Rotation Planning

Organic Pest & Disease Management

Season Extension Methods

Growing Mushrooms



To broaden the context of our gardening experience, periodic field trips to other local growing operations are organized, and instruction in food preservation, herbal medicine, and flower arrangement are offered.
The joy of gardening stems from following one's inspiration through discipline and exertion; therefore, the apprenticeship schedule includes a five-hour work period Monday through Friday, enabling apprentices to join in the rhythm of community life, including daily meditation practice and dish ROTA.
Prior gardening experience is not necessary; however, apprentices must be self-motivated and passionate about integrating gardening with meditation practice and community living.
---
MEDITATION & KARMÊ CHÖLING CULTURE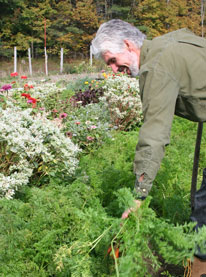 Meditation practice is foundational to this apprenticeship. Each participant will have a personal meditation instructor to guide them through their inner garden path. If scheduling permits, apprentices may choose to participate in other programs offered at Karmê Chöling. A 50% discount can be applied to a maximum of ten program days during residence.
The apprenticeship concludes with the opportunity to participate in two weeks of the 2018 Fall Dathün meditation retreat at Karmê Chöling.
Central to community living is our intention to foster a culture of kindness. In this light, apprentices are invited to community meetings, discussion groups, and staff classes.
---
PRICING
Program Fee: $3,600
Includes: Meals, a combination of dorm room and tent accommodations, and major discounts on programs.
Additional Fee for Garden Study Binder $30
Financial Aid: Limited financial aid may be available.  Please include a statement of need in your application if you require financial aid to participate in this program. (The application deadline has passed for the 2018 season, but it's not too late to look into this program for next year.)
Questions? Email garden@karmecholing.org
---
TESTIMONIALS
"The GAP program at Karme Choling was the best six months of my life. I went there for practical, hands on organic gardening classes and I left with much more. When I applied, I had no idea that I would learn to be so profoundly connected to a plot of land, a community of people, and my own mind. The program provides an abundance of knowledge and immersion into a world we don't get a chance to experience in our busy, modern lives. Jan is a fantastic teacher and leader. He has spent decades creating and cultivating the most fertile, nutrient-dense soil alongside a welcoming, loving environment in which not only plants, but also people, grow. There's no better way to learn organic gardening than from having your hands in that beautiful soil and your mind in the boundless company of other practitioners. I will forever cherish my time as a Garden Apprentice.
~Kassie Harris, Garden Apprentice 2016
"Mindfulness, awareness, gentleness, nurture, wonder, sharing … Basic Goodness. These are the words that the Karmê Chöling Garden Apprenticeship Program brings to mind. Truly an experience of a lifetime. Under the skillful guidance of Jan Enthoven and the Karmê Chöling garden staff, the apprentice is empowered to learn the fundamentals of artisanal organic gardening, witness the dharma manifest in our phenomenal world and immerse one's self in the Shambhala community. What an opportunity to cultivate mind, body and soil."
~ Andrew Karasz, Garden Apprentice 2015
"The Garden Apprenticeship is a full and incomparable experience saturated in countless aspects of organic growing and management, via study, discussion and abundant hands-on learning. Equally, it is suffused with community living and exploring how enlightened society can manifest on a daily basis, time for individual practice and study and testing the delicate interplay between work, practice and play."
~ Lucas Kovacevich, Garden Apprentice 2014
Watch a video of Waylon Lewis, founder of elephant magazine and elephantjournal.com, interviewing Karmê Chöling's former Garden Manager, Aaron DeLong, about his work in the Karmê Chöling garden, what he's learned from Jan, and how the Shambhala teachings have influenced his work in gardening. 
---
THE APPRENTICESHIP STAFF