Our Garden
The Karmê Chöling garden is about one acre in size. Beds of perennial flowers edge the grass paths and annual production areas, where over a hundred different varieties of flowers, herbs, and vegetables are grown each year. Produce from the garden supplies the Karmê Chöling kitchen for approximately six months of the year and also serves local individuals and families through Community Supported Agriculture (CSA) shares. Karmê Chöling is committed to organic growing methods and a land stewardship model within the garden guided by agroecological principles. We look to our surrounding forests and meadows for inspiration and teachings regarding how we interact with the cultivated landscape.
There are many ways to become involved with the garden, from volunteering, working on staff, taking part in our mindful gardening weekends, or joining the Garden Apprenticeship program.
April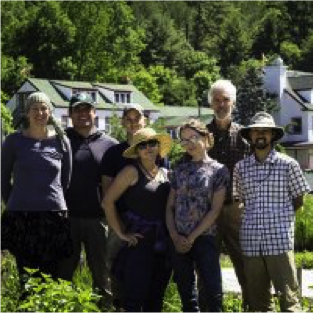 April 14 - October 15
Garden Apprentice Program
with Master Gardener Jan Enthoven
A six-month residential program in which apprentices learn the basics of organic gardening while engaging in daily meditation practice and community life. No experience necessary.